Latest Emuge Turbine End Mills Feature PVD-Applied and Heat-Resistant Coatings
Press Release Summary: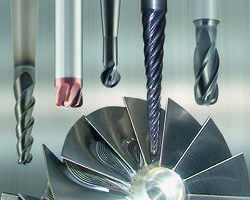 Offered in designs ranging from 5 to 9 flutes with a corner radii of 1.0 or 2.0 mm
Taper ball tools come with sub-micro grain carbide substrate and a HA cylindrical shank
Torus long length end mills are coated with TIALN and coolant through capability
---
Original Press Release:
Emuge to Highlight New Line of Turbine End Mills at Eastec
High Performance End Mills are Designed for Aerospace and Turbine Milling Strategies.
WEST BOYLSTON, MA U.S.A. (February 11, 2019) – Emuge Corp., a leading manufacturer of high performance taps, drills, end mills and other rotary tools, has introduced an advanced line of end mills featuring unique geometry designed specifically for the high performance machining of turbine and bladed components. New Emuge Turbine End Mills offer unprecedented cycle time reductions and long tool life in challenging forms and materials, including Titanium, Nickel Alloys, Aluminum Alloys and more. View video, brochure and more product details. Emuge will be located in EASTEC Booth no. 5369 at the Eastern States Exposition, West Springfield, MA from May 14 - 16, 2019.
Complex shapes including wide sweeping radii and deep pocketed cavities present ample challenges for aerospace and turbine manufacturers. "We are very pleased to offer our customers a solution to meet the unique requirements for milling turbine parts, as well as for the die and mold industry, " said Dan Doiron, Milling Product Manager, Emuge Corp. Mold applications include machining tire molds and plastic injection molds, among others.
Ideal for machining components with challenging geometries, new Emuge Turbine End Mills have a stable design including on the tools featuring a tapered flute construction. The end mills feature PVD-applied, highly hard and heat-resistant coatings, and a newly developed geometry that enables aluminum machining.
The Emuge Turbine End Mills Line includes a wide range of Taper Ball tools that feature a sub-micro grain carbide substrate and an HA cylindrical shank. The 3°, 4°, 6° and 8° Taper Ball tools have 2 and 3 flute designs, and the 17.5° has 3 flutes. Polished flutes in the 3°, 4°, 6° and 8° tools promote chip evacuation in aluminum alloys. Coating options for the Taper Ball tools include ALCR for additional tool life in titanium alloys, high temperature alloys, stainless steel and aluminum alloys, and TIALN for heat and abrasion resistance in a wide range of materials such as stainless steel, steel alloys, cast iron and other ferrous metals.
Taper Torus end mills include 3°, 4°, 6° and 8° sizes featuring 2 highly polished flutes, sub-micro grain carbide, and have a torus "cupped" radius end design for maximum step over lengths. ALCR coating is standard, and TIALN coatings are available.
A Long 8° Taper Torus style also features a torus cupped" radius. The cutting flutes are tapered for increased efficiency in a range of designs from 5 to 15 flutes. The Long Taper Torus tools are TIALN coated for maximum tool life and include axial coolant through capability.
The Emuge Turbine End Mills Line includes a Torus long-length tool style which features variable flute spacing for low vibration milling. The tools are available in designs ranging from 5 to 9 flutes and have a corner radii of 1.0 or 2.0 mm. Torus long length end mills are TIALN coated for maximum tool life and include coolant through capability.
About Emuge Corp.
Emuge Corp. is a wholly owned subsidiary of the 1,800+ employee German company EMUGE-Werk Richard Glimpel GmbH & Co. KG (Lauf, Germany) that has been the product technology and performance leader in their field for nearly 100 years. The company manufactures an extensive line of taps, thread mills, drills, end mills, toolholders, clamping devices and other rotary cutting tools ‒ over 40,000 items sold through distributors worldwide. Emuge also offers end-user technical support through a network of in-the-field engineers and in-house product specialists, all with extensive tooling and application experience.
Over 10,000 types of cutting tools and accessories are stocked in the company's U.S. and Canadian Headquarters located in West Boylston, MA, USA. The current 21,000 square foot state-of-the-art facility includes a technology center with a machining and tooling demonstration showroom and classroom, tool reconditioning manufacturing, warehouse, sales, support and administrative offices. For more information on Emuge Corp., contact Emuge at 1800 Century Drive, West Boylston, MA 01583-2121, Tel. 800-323-3013, internet: (http://www.emuge.com).
Editorial Contact: 
Michael McCue
McCue & Associates LLC
978-733-1353
Technical Contact: 
Dan Doiron
Emuge Corp.
508-595-3600