Latest Embedded Motor Controllers Come with 32k and 64k Flash Memory
Press Release Summary: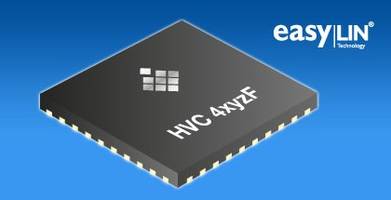 Offer LIN transceiver for auto-addressing using the bus shunt method
Feature 16-bit timers for input and output PWM signal handling
Provided with 12-bit PWM generators with center- and edge alignment and ADC triggering
---
Original Press Release:
TDK Expands Embedded Motor Controller Family to Target High Temperature Environments
HVC 4222F and HVC 4422F are Arm® M3 based motor drivers with 32k and 64k flash memory
Fully specified and tested up to 160 °C junction temperature
Target applications include automotive drive-train and thermal management systems*
February 24, 2021 - TDK Corporation (TSE 6762) has expanded its Micronas embedded motor controller portfolio to address higher temperature applications. The HVC 4222F and HVC 4422F were developed for operating smart actuators in applications with ambient temperature requirements up to 150 °C. HVC 4222F offers 32k flash memory while the HVC 4422F comes with 64k flash for more complex software implementations. These high temperature devices target applications in combustion vehicle drive trains, and emerging thermal management systems in electric and hybrid vehicles.*
Samples are available; mass production will start in Q2 of 2021.
The new high temperature devices are part of the automotive-grade, motor controller family for LIN bus connected actuators. The HVC 4xxxF family integrates an Arm® standard microprocessor with six independent 500 mA half-bridge drivers and a wide range of additional functions to enable compact and cost-efficient motor-control applications. They are capable of driving small stepper, brushed (BDC) and brushless (BLDC) motors in applications with power requirements up to 1A peak current.
With its high processing power, the HVC family allows implementation of complex motor control algorithms such as Space Vector Modulation (SVM) for permanent magnet synchronous motors (PMSM), sensor-less commutation with back electro-magnetic force (BEMF), as well as various stepper algorithms with current limiting and stall detection. Eleven general-purpose input output pins (GPIO) enable integration of our large portfolio of hall switches or 2D/3D sensors for more precision motor control.
Main applications*
Radiator grille shutter
Smart valves and pumps
LIN bus connected actuators
Main features and benefits**
Supply voltage range from 8 V to 18 V (transient from 4.5 to 40 V)
6 x 500 mA (max) half-bridge drivers
32-bit Arm® Cortex®-M3 CPU core
20 MHz system oscillator, 35 kHz watchdog oscillator
32k or 64k flash memory versions with 2k or 4k SRAM
12-bit, 1 µs ADC for internal and external measurements
2x 8-bit current DAC for motor current limiting from 2 mA to 500 mA
12-bit PWM generators with center- and edge alignment and ADC triggering
16-bit timers for input and output PWM signal handling
11 GPIOs for application interfacing
LIN transceiver for auto-addressing using the bus shunt method
Small thermally efficient QFN40 package
About TDK Corporation
TDK Corporation is a world leader in electronic solutions for the smart society based in Tokyo, Japan. Built on a foundation of material sciences mastery, TDK welcomes societal transformation by resolutely remaining at the forefront of technological evolution and deliberately "Attracting Tomorrow." It was established in 1935 to commercialize ferrite, a key material in electronic and magnetic products. TDK's comprehensive, innovation-driven portfolio features passive components such as ceramic, aluminum electrolytic and film capacitors, as well as magnetics, high-frequency, and piezo and protection devices. The product spectrum also includes sensors and sensor systems such as temperature and pressure, magnetic, and MEMS sensors. In addition, TDK provides power supplies and energy devices, magnetic heads and more. These products are marketed under the product brands TDK, EPCOS, InvenSense, Micronas, Tronics and TDK-Lambda. TDK focuses on demanding markets in automotive, industrial and consumer electronics, and information and communication technology. The company has a network of design and manufacturing locations and sales offices in Asia, Europe, and in North and South America. In fiscal 2020, TDK posted total sales of USD 12.5 billion and employed about 107,000 people worldwide.
About TDK-Micronas
TDK-Micronas is the center of competence for magnetic-field sensors and CMOS integration within the TDK group. TDK-Micronas has gained operational excellence for sensors and actuators production in over 25 years of in-house manufacturing. It has been the first company to integrate a Hall-effect based sensor into CMOS technology in 1993. Since then, TDK-Micronas has shipped over five billion Hall sensors to the automotive and industrial market. The operational headquarters are located in Freiburg im Breisgau (Germany). Currently, TDK-Micronas employs around 1,000 people.

You can download this text and associated images from https://www.micronas.tdk.com/en/tradenews/pr2101.
Further information on the products can be found under https://www.micronas.tdk.com/en/products/embedded-motor-controllers-smart-actuators.
Press Contact
Julia Andris, TDK-Micronas
+49 761 517 2531
media@micronas.com
Sarah MacKenzie, Publitek
Tel: +1 503.720.3743
E-mail: sarah.mackenzie@publitek.com
Issued by:
TDK Global, Publitek
Tel: 01582390980
E-mail: TDK-global@publitek.com
More from Thermal & Heating Equipment