Latest EcoTran Series Transformers Feature Split Bobbin Construction
Press Release Summary: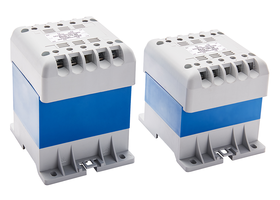 EcoTran Series Transformers are available in 105, 140, 170, 200, 330, 450 VA power ratings and are suitable for industrial applications such as vending machines, IT and medical equipment, mining operations and water stations. The transformers are come with wire ports segregated by isolation barriers and hard wired or Fast-on connected and live parts with Fast-On connectors and/or properly stripped wires. Units provide DIN rail mounting options and meet CE, UL 5085-1, and TUV Rhineland standards.
---
Original Press Release:
Signal Transformer Announces EcoTran Series of Transformers Redesigned with 21st Century Functionality and Appearance
UL Listed, DIN Rail Mounting Options, Efficiencies of 97% Across the Product Line and IP20 Type Touch Safe Terminals Among Notable Features
Inwood, NY [April 30, 2018] Signal Transformer, a Bel group company (NASDAQ: BELFA and BELFB) and global manufacturer of custom and standard transformers, chokes, inductors, transformers and SMD inductors, announces the EcoTrans Standard Series Transformers, which are used to step up or step down voltage, while keeping the mains and output circuits isolated through CE Certified Reinforced Insulation. The EcoTran Series is a UL Listed product to UL 5085-1, CE Compliant backed by TUV Rhineland and meets UL Insulation Class F, as well as utilizing split bobbin construction that provides superior isolation with no exposed metallic surfaces.
With the EcoTran Series, Signal Transformer redesigned the small, linear transformer to make it compatible with 21st century functionality, while adding key safety features, including visually appealing cases which mitigate accidental contact with sharp metal surfaces. Wire ports are segregated by isolation barriers and, whether hard wired or Fast-on connected, live parts are IP20 type touch safe when connected with insulated Fast-On connectors and/or properly stripped wires, eliminating potential shock hazards.
With 30 eco-friendly models utilizing high quality silicon steel laminations to reduce core losses and power ratings of 105, 140, 170, 200, 330, 450 VA, a wide range of options are available to suit industrial applications, including vending machines, IT equipment, medical equipment, industrial lighting, mining operations and water stations, fire alarm and security systems, machine tooling, audio and CTV systems, railway as well as motion and environmental controls.
EcoTran can be chassis mounted with conventional threaded fasteners or set onto 35 mm DIN Rail compatible mounting for ease of installation in DIN-based machine control cabinets or similar industrial enclosures. The EcoTran Standard Series Transformers are UL Listed to UL 5085-1, UL5085-2, CSA C22.2 No. 66.1-06, CSA C22.2 No. 66.2-06, CE Compliant backed by TUV Rhineland to IEC 61558-1, Parts 2-4 and 2-6 and UL 1446 Class F insulation system rated. EcoTran is currently in stock with Digi-Key, Mouser, Arrow and Sager. For more detailed information, download the Signal Transformer datasheet for the EcoTrans Series at belfuse.com/signal. For technical inquiries, call Signal at 866-239-5777, visit belfuse.com/signal or email sales@signaltransformer.com.
About Bel
Bel (www.belfuse.com) designs, manufactures and markets a broad array of products that power, protect and connect electronic circuits. These products are primarily used in the networking, telecommunications, computing, military and aerospace, transportation and broadcasting industries. Bel's product groups include Magnetic Solutions (integrated connector modules, power transformers, power inductors and discrete components), Power Solutions and Protection (front-end, boardmount and industrial power products, module products and circuit protection) and Connectivity Solutions (expanded beam fiber optic, copper-based, RF and RJ connectors and cable assemblies). The Company operates facilities around the world.
Media Contact: Susan Rawlish susan.rawlish@belf.com
More from HVAC