Latest EcoStruxure Power Software Offers Real-Time Vision and Control
Press Release Summary: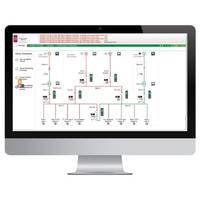 The EcoStruxure™ Power with SCADA Operation is designed to help power-critical facilities such as data centers, hospitals, oil and gas operations and airports. The software provides high availability control and alarming using M580 field automation controller with PLC time stamped event capture. It comes with cybersecurity features such as windows active directory and McAfee whitelisting. The continuous thermal monitoring prevents electrical fires whereas the energy analysis helps the operators to model and forecast energy usage.
---
Original Press Release:
Schneider Electric Enhances EcoStruxure Power SCADA Operation for Mission-Critical Power Applications
Provides high-availability control and alarming featuring PLC time-stamped event capture.
Built-in performance and thermal monitoring supports proactive maintenance and prevents electrical fires.
Energy analysis models and forecasts energy usage, quantifies savings and meets compliance requirements
BOSTON, Sept. 12, 2018 /PRNewswire/ -- Schneider Electric, the leader in the digital transformation of energy management and automation, today announced the latest version of its award-winning software, EcoStruxure™ Power SCADA Operation (PSO). Designed to provide real-time vision and control for timely response, the newest addition to the EcoStruxure Power edge control portfolio keeps demanding operations running with new levels of speed and situational awareness.
Power SCADA Operation is a key element within the EcoStruxure Power platform, part of Schneider Electric's EcoStruxure architecture, the open and interoperable system architecture for building, grid, industry and data center customers. This latest edition of EcoStruxure PSO reveals every power-related hidden risk and opportunity and significantly augments its industry leading edge control offers.
"If you run a large, power-critical facility, every second of downtime comes with huge business interruptions and financial losses, puts lives at risk and can potentially damage an organization's reputation," notes Kelly Becker, vice president, Power Solutions Division, Schneider Electric. "PSO is engineered to help power-critical facilities like data centers, hospitals, oil and gas operations and airports maximize their uptime. It's a SCADA system uniquely designed for large electrical distribution applications. It has built-in architectural redundancy providing peace of mind that your network remains reliable even if a worst-case scenario occurs."
Powerful new features improve visibility and control
EcoStruxure Power SCADA Operation reveals risks and opportunities, extends network and diagnostic support, and adds new control capabilities:
High-availability control & alarming is enabled through redundant software (PSO) and hardware (M580 field automation controller) featuring PLC time-stamped event capture.
Breaker performance capabilities detect when protection settings have been changed and analyze circuit breaker aging to enable proactive maintenance.
Continuous thermal monitoring avoids electrical fires using wireless busbar temperature sensors.
Energy analysis allows operators to model and forecast energy usage, quantify savings, meet ISO50001 requirements and track energy performance indicators per ISO50006.
Multi-site support enables roll-based access to one or more sites with full time zone support.
Cybersecurity features include Windows active directory, McAfee whitelisting and security best practices to ensure secure operation.
Significant enhancements built for large and power-critical facilities
In large and critical buildings, uptime and reliability are paramount. For example, power quality issues can cause outages that cost as much as $1 million+ per day, while operations and maintenance costs can represent as much as 80 percent of the total lifecycle cost over a 50-year period. Plus, reliability ensures productivity and operational efficiency, so when equipped with the proper data and insight, these facilities can realize new operational efficiencies, opening new avenues of innovation. EcoStruxure Power SCADA Operation helps to enable this.
One Schneider Electric customer, a large data center, installed an EcoStruxure Power SCADA Operation system combined with our connected products, such as power quality meters, for millisecond timestamp accuracy and power events analysis, to determine electrical root causes and sequence of events analysis. While this customer's previous system left them in the dark for several minutes before even alerting about an event, PSO integrated easily with third-party devices, handled a multi-source electrical distribution network and implemented live monitoring of Ethernet connected meters & PLCs with refresh rates of less than one second.
"Our customers will discover PSO provides a flexible, redundant architecture with information and control exactly how they need it," concluded Becker. "PSO helps them protect their people and assets, optimize their business continuity, maximize operational efficiency and simplify their reporting and compliance."
For more information on EcoStruxure Power SCADA Operation, please visit http://www.schneider-electric.us.
About Schneider Electric
Schneider Electric is leading the Digital Transformation of Energy Management and Automation in Homes, Buildings, Data Centers, Infrastructure and Industries.
With global presence in over 100 countries, Schneider is the undisputable leader in Power Management – Medium Voltage, Low Voltage and Secure Power, and in Automation Systems. We provide integrated efficiency solutions, combining energy, automation and software.
In our global Ecosystem, we collaborate with the largest Partner, Integrator and Developer Community on our Open Platform to deliver real-time control and operational efficiency.
We believe that great people and partners make Schneider a great company and that our commitment to Innovation, Diversity and Sustainability ensures that Life Is On everywhere, for everyone and at every moment.
About Schneider Electric EcoStruxure
EcoStruxure is our open, interoperable, IoT-enabled system architecture and platform. EcoStruxure delivers enhanced value around safety, reliability, efficiency, sustainability, and connectivity for our customers. EcoStruxure leverages advancements in IoT, mobility, sensing, cloud, analytics, and cybersecurity to deliver Innovation at Every Level. The includes Connect Products, Edge Control, and Apps, Analytics & Services. EcoStruxure has been deployed in 480,000+ sites, with the support of 20,000+ system integrators and developers, connecting over 1.6 million assets under management through 40+ digital services.
CONTACT: Schneider Electric, David Smith, Phone: 978.502.9607, David.Smith.US@schneider-electric.com
Web Site: https://www.schneider-electric.us
Contact This Company Download Spec Sheet
More from Controls & Controllers