Latest E8500 PLUS Emission Analyzer Comes with Internal Thermoelectric Chiller
Press Release Summary: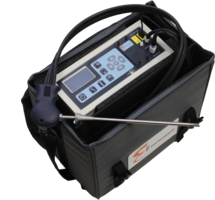 E8500 PLUS Portable Emission Analyzer features PID VOC sensor, display screen and keyboard options. Unit can store up to 2,000 tests and is designed with electrochemical sensors (O₂, CO, NO, NO₂, SO₂, H₂S) and NDIR sensors (CO₂, CxHy, High CO). The analyzer is suitable for boiler, burner, engine, turbine, furnace and combustion applications. E8500 PLUS comes with wireless remote printer and internal thermoelectric chiller with automatic condensate removal.
---
Original Press Release:
NEW E8500 PLUS Portable Emissions Analyzer Up to 9 Gas Sensors, Chiller, & SCU
The NEW E8500 PLUS emissions analyzer is a complete portable tool for EPA compliance level emissions monitoring and testing. The E8500 PLUS is ideal for regulatory & maintenance use in boiler, burner, engine, turbine, furnace, and other combustion applications.
NEW Features
Up to 9 Gas Sensors & Chiller
Optional Sample Conditioning Unit (SCU):
Minimize NOx Loss from Condensation
NO & NO₂ Sensors for True NOx Measurements
NEW PID VOC Sensor Option
NEW Display Screen & Keypad Design
Easier Filter Replacement & Inspection
Expanded Internal Memory (Up to 2,000 Tests)
Additional Features:
Electrochemical Sensors – O₂, CO, NO, NO₂, SO₂, H₂S
NDIR Sensors – CO₂, CxHy, High CO
Low NOx and True NOx Capable
Real-Time PC Software Package with Bluetooth
Wireless Remote Printer
Internal Thermoelectric Chiller with Automatic Condensate Removal
More from Material Processing