Servo Motor Controllers and Drives
Latest Dual-Axis AKD2G Servo Drive Comes with Optimized Hybrid Connector
Press Release Summary: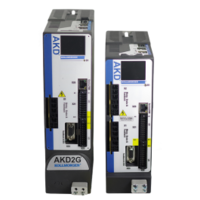 The Dual-Axis AKD2G Servo Drive features an expandable I/O, removable memory, dual-channel STO and drive-resident graphic display. The drive is offered with current loop update rate of 1.28 µs that accommodates changing load conditions. It comes with multicore Compute Engine and servo on a chip.
---
Original Press Release:
Kollmorgen Launches New Dual-Axis AKD®2G Servo Drive
Power-dense servo drive reduces wiring, fuses, and filtering to save panel space
RADFORD, VA – November 27, 2018 – Kollmorgen announced the new AKD2G Servo Drive. The dual-axis AKD®2G is one of the most power-dense industrial servo drives on the market. It substantially reduces mains wiring, fuses, and filtering to save significant panel space and cost. The AKD2G features expandable I/O (without increasing the size), removable memory, dual-channel STO, and the first drive-resident graphic display in the industry. 
Other highlights include: Workbench interface, optimized hybrid connector, and speed – its multicore Compute Engine, Servo on a Chip, is far more powerful than other servo drives. The AKD2G's current loop update rate of 1.28µs accommodates changing load conditions immediately. Velocity and position loops updates are also market leading at 62.5µs and 125µs. 
The AKD2G also offers plug-and-play compatibility to Kollmorgen motors, including the company's recently released AKM2G. The AKM2G is a configurable, high-performance synchronous servo motor with increased power density and improved torque/speed ratio, allowing OEMs to get up to 30% more performance out of an equivalent size motor or achieve the same performance with a smaller motor. Together, the AKD2G and AKM2G create an unparalleled servo motor system solution. 
ABOUT KOLLMORGEN
Since its founding in 1916, Kollmorgen's innovative solutions have brought big ideas to life, kept the world safer, and improved peoples' lives. Today, its world-class knowledge of motion systems and components, automated guided vehicle navigation software, industry-leading quality, and deep expertise in linking and integrating standard and custom products continually delivers breakthrough motion solutions that are unmatched in performance, reliability, and ease-of-use. This gives machine builders around the world an irrefutable marketplace advantage and provides their customers with ultimate peace-of-mind. 
For more information visit www.kollmorgen.com, email support@kollmorgen.com, or call 540-633-3545.
Company Contact:
Linda Mecimore
Kollmorgen
540.633.3688
Agent Contact:
Julie Eleftheriou
Longren & Parks
952.913.3065
More from Chemicals & Gases