Latest Digital X-Ray Inspection Systems from North Star are Now Offered with robotiX
Press Release Summary: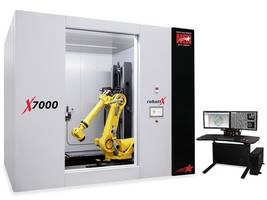 The Digital X-Ray Inspection Systems with robotiX helps in loading, scannings and unloading parts such automotive and airplane blades into NSI X-ray systems. The robotiX minimizes cycle time and increases productivity of the X-ray equipment. The robotic interface enables reusable safe sub-routines to speed up programming access.
---
Original Press Release:
North Star Imaging's Digital X-ray Systems with robotiX®
Robotic capabilities for x-ray inspection of large parts
ROGERS, Minn., Jan. 24, 2019 /PRNewswire/ -- Automatic loading and unloading of large parts for digital X-ray inspection is now available on the larger Computed Tomography systems manufactured by North Star Imaging (NSI). NSI's robotiX: https://4nsi.com/innovations/robotix.
Larger parts, such as automotive carburetors and airplane blades, can easily be loaded, scanned, and unloaded into the NSI X-ray system using a simple interface that allows users to create robotic control programs. These programs allow for reusable safe zone sub-routines that speed up the programming process to ensure that your NSI X-ray or CT system is up and running quickly when programming new parts for loading/unloading.
Adding robotiX to your NSI system reduces cycle time, increases productivity and allows for more efficient use of your X-ray equipment.
North Star Imaging, an ITW company, manufactures, sells and services state-of-the-art X-ray Imaging systems and Computed Tomography equipment for industrial use, and designs and develops software applications for its systems. NSI has a standard range of 7 extremely flexible products to meet varied requirements. Other services include need-based X-ray/CT scanning and consulting and Technical Service & Support. NSI's corporate office is in Minnesota (USA) with added sites in California, Massachusetts, Paris, London and Suzhou (China). NSI is an ISO 9001:2015 certified company. https://4nsi.com/.
CONTACT: Rosalia Buencamino, Telephone: +1 763.463.5650, Email: rbuencamino@4nsi.com, U.S. Website: www.4nsi.com
Web Site: https://www.4nsi.com
More from Mechanical Power Transmission