Latest DEKKA SE Tape Head Comes with Stainless Steel Construction
Press Release Summary: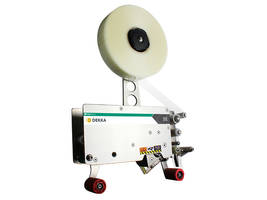 The DEKKA SE Tape Head is designed for case formers, case erectors and case sealers. The units are enhanced with functions such as tape application, wipe down of tape and tape cutting. The system is offered with new operational labeling and quick response bar code tags with an app enabled mobile device. It comes with longer roller arm for trailing end wipe down to ensure improved finishing.
---
Original Press Release:
Dekka Introduces the Enhanced DEKKA SE Tape Head
Important tape head functions such as tape application, wipe down of trailing tape, and tape cutting have been upgraded for a higher level of precision, speed, and quality.
RICHMOND, British Columbia., September 6, 2018 – Dekka, a product brand of ProMach, introduces the re-engineered DEKKA SE tape head for case formers, case erectors, and case sealers. This enhanced tape head, which features stainless steel construction for long years of service, makes significant contributions to improving end-of-line speed, uptime, and quality sealing.
In terms of cutting, the improved DEKKA SE, the brand's flagship model, offers a stronger spring and improved design of the cutting lever, bringing faster, stronger and deeper cuts. This enhancement not only results in overall better cutting, the DEKKA SE delivers considerably better results in applications where less tension is required or situations where the machine must account for corrugated variance. Additionally, the mounting of the blade has also been changed to provide a more effective cut, enabling the blade to pierce and cut the tape significantly easier, resulting in more consistent and reliable cuts. In all, cutting on the DEKKA SE has been improved by over 50 percent.
In addition to the changes in cutting, Dekka has improved both the tape applying and wipe down systems for a complete upgrade. The roller arm used for trailing end wipe down has been made incrementally longer to ensure an improved finish over the last generation design. Re-engineering and reinforcing key systems also ensure greater tape application consistency for higher quality sealing and longer service life.
The company also upgraded the overall user experience with new operational labeling and the incorporation of Quick Response Code (QR) bar code tags placed at various locations on the tape head. Scanning a QR tag with an app-enabled mobile device makes cloud-based information on that section of the tape head immediately available for better operation and faster maintenance. Key features that customers have come to expect from the DEKKA SE have been retained such as fast, simple tape threading and small size for ease of serviceability.
Dekka and Wexxar Bel, product brands of ProMach, are co-located at Pack Expo Booth #3546. Visitors to that booth will see the DEKKA 500/BEL 252 fully automatic case forming and sealing system, IPAK TF-330GH enhanced agricultural tray former, the Wexxar DELTA 1 fully automatic case former with modular rapid load magazine, Auto Adjust Technology shown on the Wexxar WF30 fully automatic case former, and more.
About Dekka
Tape heads are a critical component of the packaging line, and Dekka's tape heads fit almost every case sealer on the market. The leading manufacturer of easy-to-load tape head systems, Dekka offers an exclusive no-break tape advance system and manufactures case sealing and erecting machinery. Dekka is a product brand of ProMach, a global leader in packaging line solutions. As part of the ProMach End of Line Solutions, Dekka helps its packaging customers protect and grow the reputation and trust of their consumers. Learn more about Dekka at www.DekkaIndustries.com.
About ProMach
ProMach is a family of best-in-class packaging solution brands serving manufacturers of all sizes and geographies in the food, beverage, pharmaceutical, personal care, and household and industrial goods industries. ProMach brands operate across the entire packaging spectrum: filling and capping, flexibles, pharma, product handling, labeling and coding, and end of line. ProMach also provides Performance Services, including integrated solutions, design/build, engineering services, and productivity software to optimize packaging line design and deliver maximum uptime.
ProMach designs, manufactures, integrates, and supports the most sophisticated and advanced packaging solutions in the global marketplace. Its diverse customer base, from Fortune 500 companies to smaller, privately held businesses worldwide, depends on reliable, flexible, technologically advanced equipment and integrated solutions. ProMach is headquartered near Cincinnati, Ohio, with manufacturing facilities and offices throughout the United States, Canada, Mexico, Brazil, Europe, United Arab Emirates, and China. For more information about ProMach, visit www.ProMachBuilt.com.
Media Contact
John Eklund | Vice President, Marketing
ProMach
704-944-5340
More from Architectural & Civil Engineering Products