Latest D/3 Version 16 Distributed Control System Software Features Mistake-Proof MDL Builder
Press Release Summary: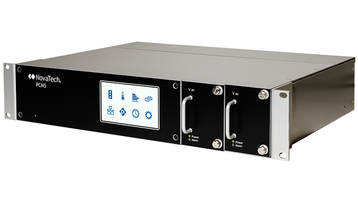 D/3 Version 16 Distributed Control System Software improves PCM5 process controller with embedded cyber security capabilities. PCM5 controller comes with hot-swappable power supplies and touchscreen interface for diagnostics. The product features auto-configured firewall, dynamic loop and logic drawings.
---
Original Press Release:
NovaTech Announces D/3 Version 16
Latest release includes the next-generation Process Control Module 5 (PCM5) Series' virtualization and Cyber Security capabilities.
QUAKERTOWN, PENNSYLVANIA (July 9, 2018) NovaTech, LLC today announced the latest release of its distributed control system software, D/3® Version 16 (D3v16). This release adds high-value features that deliver a competitive advantage for our customers. D3v16 provides a new PCM5 process controller with embedded Cyber Security, full system virtualization down to the controller level, and numerous ease of use and engineering enhancements.
"This is one of the most significant D/3 releases in the past decade, as the PCM5 controller provides a new, modular platform which will allow advanced applications and features to be added more efficiently. This will result in shorter and more feature-rich release cycles, delivering more value to our customers," says NovaTech Product Development Director, Bill Keller.
At the core of v16 is the all-new PCM5 controller, which delivers best-in-class performance and reliability. Its modern form factor has a touchscreen interface for faster troubleshooting, fanless cooling, and embedded cyber security that is auto-configured and enabled by default. In addition, PCM5 aligns with NovaTech's futureproof philosophy by allowing for communication with NovaTech's prior generation of controllers on the same network.
Full system virtualization down to the controller level provides end users with a cost-effective system for development, testing, and training. Applications can be tested before changes are made to production systems, minimizing operational disruption.
"D3v16 delivers on our customers' requests for enhancements that allow them to improve operational performance and efficiency across their plants," says Chris Kourliouros, NovaTech Product Marketing Director. "We are very excited to be releasing v16 at a time when the process industries are looking for more cost-effective, open, and secure automation solutions."
KEY BENEFITS INCLUDE:
Modern Hardware
Small footprint, no noise, low power
No moving parts
Redundant, hot-swappable power supplies
Touchscreen diagnostics
Most powerful controller to date
Controller Virtualization
Hardware-independent development, testing, and training environment allows you to create and validate prospective changes without impacting production
Embedded Cyber Security
Auto-configured firewall provides an added layer of protection
Ease of Use
More intuitive and mistake-proof MDL Builder for easier control database configuration
Dynamic loop and logic drawings in operator display for all tags
Expanded video help expedites training
About NovaTech
NovaTech is a producer of automation solutions for the process and electric power industries. Our products and services simplify complexity, reduce risk and extend the capabilities of the engineers and organizations making the world's power grids and essential process industries more reliable, efficient, sustainable and secure.
Our industry-leading power measurement, substation automation and process control solutions are used by hundreds of U.S. utilities and numerous Fortune 100 process manufacturers worldwide.
In applications ranging from power generation to agriculture, biofuels, brewing, specialty chemicals, and pharmaceuticals, our solutions emphasize open standards, ease of deployment, and the integration of existing assets.
For additional information please visit www.novatechweb.com.
Media Relations
Caroline Fricks-Wood
410.753.8392
caroline.fricks@novatechweb.com
More from Thermal & Heating Equipment