Latest CyberKnife Treatment Planning System Improves Treatment Delivery Throughput
Press Release Summary: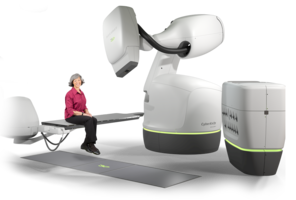 The CyberKnife® Treatment Planning System comes with VOLO™ Optimizer that helps in improving efficiency by reducing time for creating high quality treatment plans. The VOLO™ optimizer builds treatment planning methods with new tools for assisting in offering optimum clinical experience. It reduces SRS/SBRT treatment times and enables clinicians to generate and evaluate more plans each day. The system allows the clinicians to create plans for multiple cases in the same day.
---
Original Press Release:
Accuray CyberKnife® System Treatment Delivery Times Up to 50 Percent Faster With Software Upgrade
Next-Generation Accuray Precision® Treatment Planning System With the CyberKnife VOLO™ Optimizer Also Reduces Treatment Planning Times Up to 90 Percent, Enabling Clinicians to Treat More Patients Each Day
SUNNYVALE, Calif., Dec. 6, 2018 /PRNewswire/ -- Accuray Incorporated (NASDAQ: ARAY) announced today that the new release of its Accuray Precision® Treatment Planning System (TPS) with the CyberKnife® VOLO™ Optimizer will enable CyberKnife System customers to significantly improve operational efficiency by reducing both the time to create high quality treatment plans and the time it takes to deliver patient treatments. The next-generation TPS with the optimizer will facilitate the development of clinically optimal treatment plans up to 90 percent faster than before and the delivery of the treatment up to an estimated 50 percent faster than before, affording clinicians more time to expand patient access to the highly precise stereotactic body radiation therapy (SBRT) and stereotactic radiosurgery (SRS) treatments the CyberKnife System delivers.
"Our hospital was one of the first in the U.S. to provide treatment with the CyberKnife M6™ and InCise™ Multileaf Collimator and we are continuing our legacy of innovation, focused on positively transforming the care we deliver, with the upgrade to the Accuray Precision TPS and CyberKnife VOLO Optimizer," said Sujatha Pai, Chief Physicist, Penn Medicine Lancaster General Health. "One of our goals in moving from the MultiPlan® TPS to the Accuray Precision TPS and new optimizer was to increase the speed with which we can create and optimize treatment plans, and our experience to date is clearly demonstrating we are achieving this goal. For example, our physicists, Allison Lindsey and Dr. Hong Xiang, say that with Precision they were able to create an optimal prostate plan in just 45 minutes that would have taken 5-6 hours prior to the upgrade. In general, we're finding it is easier to determine the best treatment approach for each patient and it takes us less time to do so, allowing us to provide SBRT and SRS treatments to more patients in need."
The CyberKnife VOLO Optimizer builds on industry-established treatment planning methods with new tools intended to assist in delivering an exceptional clinical experience. Validated with input from clinical users affiliated with regional and academic centers, the goal of the optimizer is to 1) make planning faster, thus increasing planning throughput and allowing better plans through exploration of trade-offs and 2) improve the treatment delivery throughput. With the CyberKnife VOLO Optimizer, clinicians are expected to realize a substantial reduction in optimization time, enabling them to create plans for multiple cases in the same day, and helping to ensure the optimal treatment plan is created for cancer and neurology cases spanning different diagnoses and tumor sizes.
An internal Accuray evaluation comparing the Accuray Precision TPS with CyberKnife VOLO Optimizer solution, to other TPS, either for CyberKnife or other radiation therapy systems, has identified important improvements including:
Up to 50 percent reduction in SRS/SBRT treatment times, which includes 'beam on' and imaging of the treatment target every 30 seconds or more, so clinicians can treat more patients each day
Up to 90 percent reduction in the time spent creating the treatment plan, allowing clinicians to generate and evaluate more plans each day, making it easier to identify the particular plan that is right for each patient
"The new Accuray Precision TPS with CyberKnife VOLO Optimizer represents a major step forward in the evolution of the CyberKnife System in treatment speed, efficiency and ease of use. Clinicians now have an option for delivering the same highly precise radiosurgery treatments they have come to expect with the system more quickly and for a wider range of patient cases," said Lionel Hadjadjeba, M.D., Senior Vice President and Chief Customer Experience Officer at Accuray. "We're thrilled with the results of our internal evaluation, which has shown noteworthy reductions in both treatment planning and delivery times compared to other TPS for the CyberKnife® platform and treatment planning software for other delivery systems. We believe the introduction of the CyberKnife® VOLO™ Optimizer has the potential to significantly change the way the platform is used in clinical practice."
About Accuray
Accuray Incorporated (NASDAQ: ARAY) is a radiation oncology company that develops, manufactures and sells precise, innovative treatment solutions that set the standard of care with the aim of helping patients live longer, better lives. The company's leading-edge technologies deliver the full range of radiation therapy and radiosurgery treatments. For more information, please visit www.accuray.com or follow us on Facebook, LinkedIn, Twitter and YouTube.
Media Contacts
Beth Kaplan
Public Relations Director, Accuray
+1 (408) 789-4426
bkaplan@accuray.com
Jayme Maniatis
MSLGROUP
+1 (781) 684-6662
accuray@mslgroup.com
More from Electrical Equipment & Systems