Latest Cloud-Based Multi-Camera Production Software Features Frame-Accurate Switch Technology
Press Release Summary: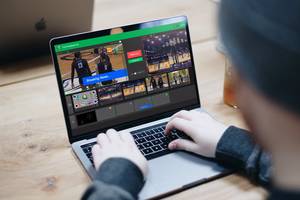 The Cloud-Based Multi-Camera Production Software is designed for applications ranging from live sports events to e-games competitions. This platform enables non-professionals to easily manipulate graphics, scoring and text overlays during production. The software supports up to six live streams added at any time directly from the producer's interface or any user of an iOS, Android or MacOS device. It allows producer to support simultaneously output directly to social media platforms Facebook Live, YouTube Live and Periscope.
---
Original Press Release:
IBC 2018: TVU Networks Unveils Innovative Cloud-based, Multi-Camera Production Solution
TVU Producer enables anyone, anywhere to produce professional multi-camera video for output to web and social media platforms
MOUNTAIN VIEW, CA – August 29, 2018 – TVU Networks, the global technology and innovation leader in live IP video solutions, today announced that it will debut TVU Producer, its powerful cloud-based video production solution at IBC 2018 (Stand: 2.B28). Part of TVU Network's range of innovative remote production solutions, TVU Producer enables anyone to produce professional, multi-camera video, eliminating the need for expensive hardware and software or prior training.
Covering a wide range of applications, from live sports events and e-games competitions, through to house of worship services and concerts, the simple web-browser interface of TVU Producer enables it to handle any multi-camera production from virtually any location. Producer supports simultaneously output directly to major social media platforms (Facebook Live, YouTube Live, Periscope, etc.), as well as to virtually any CDN platform. SDI delivery is supported through a TVU transceiver and the solution also offers a multi-channel IP video switcher, graphics and slow motion replay capabilities.
Producer's patent-pending frame-accurate switch technology overcomes the issue of Internet delay, which can impact processes such as switching, enabling frame accurate previews in the web-based interface. Producer also supports multi-user operation enabling a number of production teams to collaborate.
"The consumer appetite for live content is strong, however, the cost and complexity involved in covering live, multi-camera events is often a barrier for content producers; as a result, multi-camera productions are often confined to large premium events," said Paul Shen, CEO, TVU Networks. "With Producer TVU is providing a flexible, economical and simple to use alternative that can be used by any operator – regardless of training – removing the need for expensive equipment rentals or large headcounts. This is the perfect solution for broadcasters who are under pressure to deliver more and better content with less resources."
Non-professionals can easily manipulate graphics, scoring and text overlays during production, thanks to the simple WYSIWYG interface design. Producer integrates with existing TVU transmitters, including TVU Anywhere, TVU One and TVU MLink , as well as with any IP video source or any standard IP video stream (HTTP, RTP, RTSP, UDP, etc.). Up to six live streams an easily be added at any time directly from the Producer interface and any user of an iOS, Android or MacOS device can be added as a live video source within seconds by downloading the TVU Anywhere application.
Producer will be demonstrated at IBC 2018 alongside the innovative Artificial Intelligence (AI) driven TVU MediaMind Platform. At the core of the MediaMind is TVU's unique metadata-driven workflow engine, which potentially changes how content can be produced and consumed.
TVU Networks has over 2,500 customers in more than 85 countries. The TVU Networks family of IP transmission and live production solutions gives broadcasters and organizations a powerful and reliable workflow to distribute live video content to broadcast, online and mobile platforms. TVU has become a critical part of the operations of many major media companies. The TVU Networks suite of solutions has been used to acquire, transmit, produce, manage and distribute professional-quality live IP HD footage as an integral part of news, sports and major global events. For more information about TVU Networks solutions, please visit www.tvunetworks.com.
Social Media Links:
TVU Networks on Twitter
TVU Networks on Instagram
TVU Networks on Facebook
TVU Networks on LinkedIn
TVU Networks on YouTube
About TVU Networks®
TVU Networks® is the global technology and innovation leader in IP-based live video solutions. TVU's solutions help transform broadcasters' SDI-based operations - which include acquisition, transmission, routing, distribution and management - to an IP-based infrastructure. TVU® serves customers of all sizes in more than 85 countries from industries that include news broadcast, web streaming, law enforcement, sports, corporate and government. In broadcast markets around the world including the USA, China and other major economic powers, TVU® is the dominant market leader with a large majority of all news broadcast stations using its IP video solutions. Using its proprietary IS+ technology, TVU's uplink solutions use any combination of cellular, satellite, microwave, WiFi and Ethernet IP connections to deliver live HD video from practically any location.
Contact:
David Bramley
Platform Communications
+44 207 486 4900
Related