Latest Class 4 Softswitch Solutions Come with Nongeographic and Nomadic Routing Feature
Press Release Summary: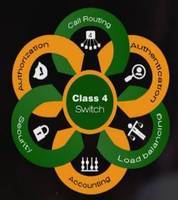 The Class 4 Softswitch Solutions from Ecosmob for wholesale carriers assure shopper loyalty and gain a competitive atmosphere. These solutions are offered with features such as intelligent call routing, LNP and MNP routing, emergency numbers routing, generate reports of calls, Inbound /Outbound/Unauthorized, active call reports. The unified dashboard used for managing, monitoring, report generation. The Softswitch solutions are custom-built for ITSPs, multi-tenant preparation and international level operations.
---
Original Press Release:
Ecosmob Offer Class 4 Softswitch Solution for Wholesale Carriers
Ecosmob, leaders over a decade in VoIP technologies for wholesale carriers, declared the launch of a revamped class four Softswitch for VoIP wholesale service suppliers and medium carriers. The class four Softswitch resolution assists carriers to serve retail VoIP for inter-LATA VoIP service and also inter-exchange with the durable groundwork.
The enterprise has gained progressive improvement inside the dashboard that is presently extra intuitive than before and so the request section gets some mods on the suggests that. Security is healthier than before.
The accent is on interdependence, sturdy style and a classy feature set that is indispensable for wholesale VoIP operations to assure shopper loyalty and attain a competitive atmosphere," same an organization representative expression the launch.
The prominent protocol and support, codec compatibility and unlimited carrier support unit a district of the choices that build Ecosmob's Softswitch resolution the simplest and most affordable one for VoIP wholesale businesses with high traffic and massive volume of retail service suppliers. The multi-carrier management feature is inflated with least value Routing turning into even higher and easier to manage which will directly impact the value of operations.
Ecosmob skilled communications solution like Class 4 Softswitch allows wholesale providers to conviction deploy brand competitive. Few of key features Intelligent Call Routing, LNP & MNP Routing, Geographic, Nongeographic & Nomadic Routing, Fax Routing, Routing for Class 5 & Resellers, User-friendly Web Interface, Emergency Numbers Routing, Load Balancing & Failover, Generate Reports of Calls, Inbound /Outbound/Unauthorized, Active Call Report, WLR Customers, Routing for Class 5 & Resellers, User-friendly Web Interface, Tracks traffic Volume, Black/White List routing, Load Balancing.
According to the corporate representative, the most recent category four Softswitch development is intended to be ascendable and standard to fulfill desires of freshly established VoIP United Nations agency sale businesses also as established enterprisegrade carriers who want an additional reliable, extremely secure, feature made and sturdy platform for his or her international operations. Enumerating the options, the same that decision management includes carrier failover support, port limitation, SIP Proxy and topology concealing and unlimited multiple carriers among others.
System management is simple with a unified dashboard for centralized net based mostly management, monitoring, reports, and request beside language support. the request includes advanced taxation, country-specific tax structure, RADIUS-based mostly request and trailing payments. One will generate a variety of reports like average success quantitative relation, average decision period et al. that facilitate wholesalers contour operations.
Ecosmob's Softswitch resolution is backed by change resolution preparation. This helps in a complete setup as well as maintenance. There square measure extras like the inclusion of WebRTC technologies that bring price addition and produce VoIP services in line with current use patterns and expectations. The Softswitch resolution is often custom-built for ITSPs, incumbent native exchange carriers, multi-tenant preparation and international level operations.
Summing it up the representative same that the most recent at school four Softswitch giving for wholesale VOIP may be a generation prior to inheritance Softswitch in compactness of code, the speed of operation, perfect performance, security, and trustworthy. the corporate forever keeps on upgrading technology to enhance productivity, cut back prices and facilitate their wholesale VoIP service suppliers gain a lead over others. Speak to your Ecosmob experts right away and discuss your business needs today! 
More from Optics & Photonics