Latest Chillers Can be Controlled by APPLICA App
Press Release Summary: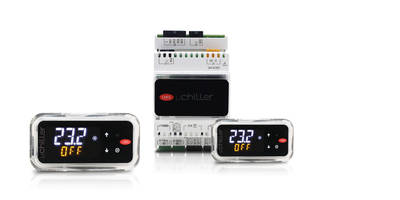 Provide µChiller process
Offer in-line cooling services in production plants
Come with on-off and variable-capacity BLDC compressors
---
Original Press Release:
µChiller Process: Complete Management of Process Chillers
Brugine (PD), 6 November 2020 - The CAREL range for the management of chillers has been enriched with µChiller Process, the first compact and cost-effective controller on the market for complete management of process chillers with On-Off and variable-capacity BLDC compressors. Thanks to its flexibility and large number of functions, µChiller Process covers most process applications without the need for modifications or the addition of external devices. The solution is completed by innovative connectivity features.
European Ecodesign regulations, specifically "ENER Lot 21" (Regulation 2016/2281 of the European Commission) define new efficiency and performance requirements for process chillers. Furthermore, connectivity of industrial machinery is becoming an increasingly widespread trend, also following current restrictions on mobility due to the pandemic: a situation that will further drive the growth of IoT in the industry. The µChiller Process controller combines the reliability of traditional design with innovative elements for high efficiency and connectivity so as to comply with regulations and respond to the demands of end users.
Compact dimensions
The compact dimensions of the chillers that offer in-line cooling services in production plants means that all of the components must be likewise compact. In the same way, greater integration of functions into the controller itself minimizes the need for additional components outside of the unit. The distinctive element of μChiller Process is complete control of high-efficiency units through integrated management of electronic valves and BLDC compressors, without neglecting the specifics of process applications, such as hot gas bypass or the possibility to manage a storage tank or backup pump.
Connectivity
The availability of serial ports, connectivity via Bluetooth with smartphones using the CAREL APPLICA app or via computer, offer various methods of interaction between the unit and the end user and/or manufacturer.
Press information
CAREL Media Relations Manager, Paola De Troia
T. +39 049 9731 899
[email protected]