Electric Wire, Cable and Cable Assemblies
Latest Cat5e AWM 600V Ethernet Cable is Designed with Foil and Braid Shielding
Press Release Summary: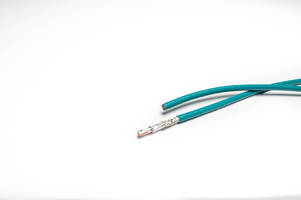 LUTZE's 2-Pair Cat5e AWM 600V Ethernet Cable is suitable for applications where high reliability is required. The unit features M12 and RJ45 connectors that are used for making field wiring easy. The cable's foil and shielding protects data from harmful interference for an uninterrupted data transmission.
---
Original Press Release:
LUTZE Announces 2-Pair Ethernet Cable Cat5e
Charlotte, NC, April 2018 - Data transmission is critical for success in today's manufacturing environment. LUTZE's new flexible 2-Pair Cat5e AWM 600V Ethernet cable (#104197) is designed with foil and braid shielding to protect data from harmful interference and ensure uninterrupted data transmission and long term reliability.
This new cable adds a teal colored, 2-pair Cat5e offering to LUTZE's product line to better serve the USA automation market. The 2-pair configuration is used in applications with high reliability requirements. Fewer conductors and smaller OD make field wiring with M12 and RJ45 connectors easy.
Thanks to AWM 600V rating, there is no need for internal wire separation in machinery and electrical panels. Thanks to PLTC listing the cable can go directly into the power limited section of cable tray. These features save material and labor costs for machine builders, panel shops, contractors, maintenance, etc. - anyone installing Ethernet cable in an industrial application.
UL AWM 2570 600V external use allows for installation alongside 600V power cables in accordance with NFPA 79 and UL508A, Clause 29.5.1A
UL listed Type CMG allows for installation in cable trays per NEC article 800
UL listed Type PLTC allows for installation in cable trays per NEC article 725
LUTZE Inc designs and manufactures control products for factory automation and specializes in flexible industrial cables such as LUTZE Silflex®, Superflex®, DRIVEFLEX®; grounding and wire management products, compact power supplies, LSC-Wiring System for control cabinets, current control system LOCC-box and LCIS relays.
LUTZE Inc located in Charlotte, NC, is part of the LUTZE International Group. Founded in 1958, LUTZE International Group has manufacturing and distribution operations in Germany, Austria, France, Switzerland, Great Britain, Czech Republic, Spain, China and the USA. Efficiency in Automation!
For more information or samples, please contact:
LUTZE Inc.
13330 South Ridge Dr
Charlotte, NC 28273
Tel.: 800-447-2371 
Fax: 704-504-0223
More from Cleaning Products & Equipment