Latest Biometric Iris Scanner Helps to Electronically Secure and Track Armory Assets
Press Release Summary: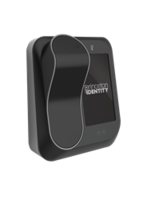 The LEID Products' Biometric Access Control System is now integrated with biometric iris scanner that allows law enforcement customers with accuracy and reliability for securing weapons and critical evidence. The BACS™ provides self-service pick-up and drop-off of items with 24/7 monitoring and controlling via remotely via web-based asset/evidence management software. The system can store electronic chain of custody records.
---
Original Press Release:
LEID Products to Unveil New Biometric Iris Scanner Integration for the BACS™ Asset Management System at the 2018 IACP
Innovator of biometric armory and evidence management systems, LEID Products will be performing live demonstrations of its patented Biometric Access Control System (BACS™) with integrated iris scanner, electronic modular access unit and SmartRail™ Gun Rack, which are used to electronically secure and track armory assets and evidence property at the 2018 IACP Conference in Orlando October 6-9 in booth #1312.
AUBURN HILLS, MICH. AND ORLANDO, FLA. (PRWEB) OCTOBER 03, 2018 - LEID Products, LLC, the leader of biometric and electronic access locker, cabinet, and gun rack storage systems with built-in asset management and inventory control software, today announced the company will send a team of asset management experts to the 125th annual IACP Conference and Exposition. The International Association of Chiefs of Police (IACP) trade show is taking place at the West Building of the Orange County Convention Center in Orlando, FL. LEID Products' booth #1312 is centrally located in the front of the expo floor between the Homeland Security and Personal Equipment sections of the show.
LEID Products, attending for the 12th consecutive year, will be among the more than 650 companies showcasing new technologies, best practices, classroom learning and hands-on demonstrations at the premier event, the world's largest gathering of law enforcement professionals.
LEID's hands-on exhibit will offer live demonstrations of its BACS™ Systems – intelligent biometric access control systems used to secure and track critical inventory including weapons, equipment, keys and evidence. This year, the exhibit will showcase a new BACS™ Systems product option, the biometric iris scanner integrated into the Electronic Modular Access Units and SmartRail Gun Rack.
"We are excited to attend the 2018 IACP and demonstrate the newest feature of our BACS™ Systems, the iris scanner," said Sam Hoff, president of LEID Products. "Iris recognition technology provides our law enforcement customers with unparalleled accuracy, reliability and simplicity in securing weapons and critical evidence."
LEID's patented biometrically-accessed BACS™ Systems offer self-service pick-up and drop-off of items identified via RFID or barcode with 24/7 monitoring and control through remote, web-based asset/evidence management software. Electronic chain of custody reports provide for full accountability of all items stored in BACS™ Asset and Evidence Management Systems as well. With a track record spanning over 12 years, BACS™ Systems are trusted by government and law enforcement agencies across the U.S. and abroad.
To register for the 2018 IACP, click here.
About LEID Products, LLC 
LEID Products, LLC provides patented biometric, access-controlled electronic locker and cabinet storage. Our storage closes the accountability loop by pairing biometric access with RFID asset tracking. Originally founded to assist police departments in securing weapons and equipment, LEID products are utilized wherever efficiency, accessibility, and accountability are needed for inventory. Government agencies, courts, airports, hospitals, and businesses use this system to secure critical assets such as documents, laptops, medical supplies and other valuables. Access.it and iLibrary systems are built with keypads or card readers. Libraries nationwide use these systems for self-service, 24/7 pick-up. The Biometric Access Control Systems (BACS™) hold three U.S. Patents. For more information and demonstrations of our products, visit http://www.leidproducts.com.
Contact Information
Georgia Whalen
LEID Products, LLC
+1 978-697-2664
Related