Latest Aluminum Generator Enclosures from Panel Built Feature Fully Welded Roofing System
Press Release Summary: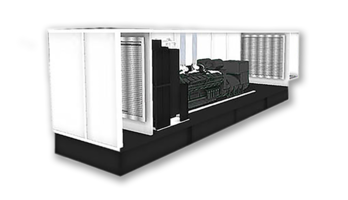 The Aluminum Generator Enclosures meet sound attenuation levels of 1 and 2 and has mineral wool insulation. The enclosures come with roofing system that minimizes chance of damage caused due to leaks or cracks. The aluminum design of the enclosure protects the exterior of the structure from rust damage. These products can be outfitted with standard or custom fabricated doors with panic release handles.
---
Original Press Release:
Panel Built, Inc. Introduces New Line of Aluminum Generator Enclosures
New Power Products Division Expands Business into New Markets
ATLANTA-November 16, 2018 - Panel Built, Inc., a leading manufacturer of modular offices, mezzanines, and prefabricated buildings, has added a new line of products in the power industry: generator enclosures and sub base tanks. With Panel Built's experience of building premium prefabricated buildings, these new products build upon on a long-standing history of quality metal structures. To kickoff the new division of Power Products, Panel Built has brought in Gino Klein to head the line of products. Mr. Klein is a veteran in the Power Products industry with years of experience in designing and selling generator enclosures and sub base tanks. On coming to Panel Built, Gino states, "Panel Built and the employees here have fully committed to our new Power Products Division. Each day I'm blown away by the knowledge and skills each member of this team possesses. They've taken well to the new line, and I'm excited to see what we can accomplish here."
The generator enclosures incorporate a design feature that is new to Panel Built's line of welded, prefab buildings, fully aluminum framing and walls. The aluminum construction is an element of the enclosure design that Mr. Klein has developed over years of designing and tweaking the product. Additionally, the enclosures incorporate a roofing system that is fully welded at all seams, thus ensuring the system is fully weatherproof and minimizes the chance of damage causing leaks or cracks. And the aluminum enclosure design ensures the exterior of the structure stays in pristine condition, fully resisting any possible rust damage. The smooth and sleek exterior not only offers high quality protection, but also provides a boost the building's aesthetics compared to other generator enclosure manufacturers.
In addition to the welded aluminum design, Panel Built generator enclosures can meet sound attenuation levels 1 & 2 (15 & 25 dBA reduction respectively) with additional mineral wool insulation. Panel Built generator enclosures may be outfitted with standard or custom fabricated doors with panic release handles. Enclosure size can be altered to meet site specific size restriction.
The new line of power products will be manufactured in a whole new Panel Built facility located in Blue Ridge, Georgia. The new facility will provide office space for the line's engineering team and offer a total of 65,000 sq. ft. of new office and manufacturing space
Panel Built, Inc. was founded in 1995 by brothers Pat and Mike Kiernan and began with the construction of pre-manufactured buildings. Today, Panel Built offers a complete line of custom modular offices, mezzanines, security booths, pre-assembled exterior buildings, generator enclosures, and cleanrooms. Panel Built's multiple product lines are produced on site, in four state-of-the-art manufacturing facilities.
More from Architectural & Civil Engineering Products