Latest AlphaStep Stepper Motor Systems are Offered with Mechanical Absolute Sensor
Press Release Summary: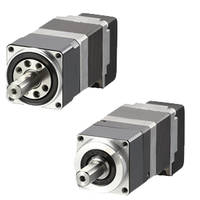 AlphaStep Closed Loop Stepper Motor Systems are used in Hybrid control system that is designed for monitoring motor's position. The motors are equipped with planetary and harmonic gearheads that are available with gear ratios of 7.2 and 10:1 and 50 and 100:1 respectively. Gearheads come with built-in controller or pulse input type driver that reduces the generation of heat. AZ series motors are offered with multi-axis driver with built-in EtherCAt communication for use in multiple axis applications.
---
Original Press Release:
New 28 mm (1.10 in) Planetary and Harmonic Gearheads Arrives for DC Input αSTEP AZ Series Stepper Motors
Planetary and Harmonic Gearheads with Absolute Sensor in a 28 mm DC Input Frame
Torrance, CA – June 15, 2018
Oriental Motor is pleased to introduce new planetary and harmonic gearheads for the AlphaStep AZ Series DC input stepper motor in 28 mm (1.10 in) frame size.
The AlphaStep AZ Series stepper motors are part of the Hybrid Control System and delivers high efficiency and low vibration together with Oriental Motor's newly developed Mechanical Absolute Sensor for absolute-type positioning. This breakthrough mechanical sensor does not require a battery nor does it rely on external sensors, eliminating extra steps and parts and reducing costs in the application design process.
The AlphaStep Hybrid Control System constantly monitors the motor's position, allowing for the benefits of open loop control while providing the assurance of closed-loop performance. The AlphaStep Hybrid Control System product line-up features the AZ and AR Series stepper motors as the common motor and driver for round shaft, geared and actuator motion control solutions.
Both of the new 28 mm gearheads have two gear ratios: the planetary gearhead is 7.2 and 10:1 while the harmonic gearhead is 50 and 100:1. Available with built-in controller or pulse input type driver which efficiently reduces heat generation. For multiple axis application, Oriental Motor offers a 2, 3 or 4 axis AZ Series multi-axis driver with built-in EtherCAT communication.
To learn more about Oriental Motor's AlphaStep Hybrid Control System, contact the Technical Support group at 800-468-3982 or email, techsupport@orientalmotor.com, or visit the web page at:
http://www.orientalmotor.com/stepper-motors/alphastep-closed-loop-stepper-motors.html
ABOUT ORIENTAL MOTOR
Since its founding in Japan in 1885, Oriental Motor has been a world leader in motion control systems. For over a century, we have concentrated on technological advancement and product design improvement — an emphasis evident in the sophisticated devices we market today.
Connect with Oriental Motor: Facebook, Google+, LinkedIn, Twitter and YouTube
More from Controls & Controllers