Latest ADM 3.5 Beta Software Offers Data Maintenance and File Management
Press Release Summary: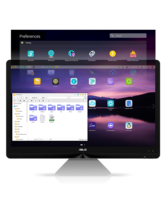 Features preferences widget design that integrates ADM settings and integrates settings functions
Supports Btrfs and Snapshots that enables control of your backups
File Explorer option allows to drag and drop the files and folders directly to and from EZ Sync folders
---
Original Press Release:
ADM 3.5 Beta is Here
Taipei, Taiwan 9 April, 2020 – ASUSTOR Inc. has now opened the ADM 3.5 Beta program, featuring a new design that brings together all system-related settings and new snapshot features for MyArchive. ADM 3.5 Beta has also strengthened data maintenance and file management features. Download ADM 3.5 Beta today.
New Features:
New Preferences Widget – Easily Find the Settings You Want
The all-new preferences widget design integrates all ADM settings, and integrates settings functions that were originally scattered in preferences, access control, and services into a single area. The new interface makes system management more efficient and settings easier to find. Browse and access all related settings with one click.
MyArchive Now Supports Btrfs and Snapshots
ASUSTOR's MyArchive has been upgraded again, bringing Btrfs and snapshots. Btrfs enables easy control of your backups by supporting snapshots and version history. If a file is unintentionally modified, it can be recovered. The advent of Btrfs on MyArchive drives enable even safer backups than ever before. MyArchive drives with Btrfs are fully supported on other ASUSTOR NAS devices that support Btrfs, strengthening protection of your data.
Applicable models: AS31, 32, 40, 50, 51, 61, 62, 63, 64, 70, Nimbustor and Lockerstor
Browse and Access MyArchive Snapshots and EZ Sync Files
File Explorer has been upgraded browse more diversified data sources. In addition to MyArchive snapshots, historic versions of files are easily accessible through File Explorer to quickly restore previous versions. EZ Sync support has also been added to File Explorer to make files directly accessible. With File Explorer, files and folders can be dragged and dropped directly to and from EZ Sync folders, making EZ Sync easier than ever to use.
Download ADM 3.5 Beta today: https://www.asustor.com/en-gb/betaProgram
For support and feedback: https://support.asustor.com/
About ASUSTOR
Founded in 2011, ASUSTOR Inc. was established via direct investment from ASUSTeK Computer Inc. The ASUSTOR brand name was created as a portmanteau of "ASUS" and "Storage". ASUSTOR is a leading innovator and provider of private cloud storage (network attached storage) and video surveillance (network video recorder) solutions, also specializing in the development and integration of related firmware, hardware and applications. We are devoted to providing the world with unparalleled user experiences and the most complete set of network storage solutions possible.
Media Contact: marketing@asustor.com