Latest AB-200 Enclosed Combustor Offers Smokeless Combustion Without a Visible Flame
Press Release Summary: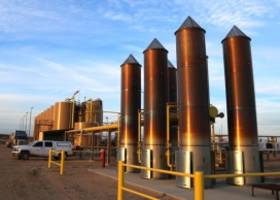 The AEREON's AB-200 Enclosed Combustor is capable of handling 8,160 cu-ft per hour of gas. The product is manufactured to DRE standards and EPA regulation clean air act. The unit provides a solution for emissions control and hazardous vapors management.
---
Original Press Release:
AEREON Announces EPA Certification of the AB-200 Combustor
AEREON AB-200 Achieves OOOO Certification
AUSTIN, TEXAS (PRWEB) DECEMBER 12, 2018 - AEREON is pleased to announce the addition of the AB-200 Enclosed Combustor ("AB-200") to its fleet of premier emissions control equipment. Capable of handling 8,160 standard cubic feet per hour of gas, the AB-200 has the highest rated capacity of any Quad O certified combustor recognized by the Environmental Protection Agency's ("EPA") Regulation "OOOO" of the Clean Air Act. The AEREON AB-200 combustor exceeded the minimum required DRE (95%) by achieving greater than 99.9% destruction of excess vapors in its certification test. The AB-200 combustor also met and exceeded the EPA's CO emissions requirements.
The AEREON AB-200 provides a clean, safe alternative for eliminating tank vapors and ensuring regulatory compliance for upstream and midstream operators as they extract, process and transfer oil and gas to downstream markets. The large capacity unit cuts the number of systems needed on site and reduces short and long-term costs for operators. "We are excited to bring to the market a unique and highly efficient combustor which meets the stringent government/ EPA's testing requirements and achieving Quad-O certification. This product (AB-200) will offer customers a critical solution for emissions control and hazardous vapors management," said Saeid Rahimian, AEREON's Chief Executive Officer. As another key offering within Aereon's proven product designs, the AB-200 provides high destruction efficiency and smokeless combustion without a visible flame.
While AEREON has been delivering AB-200 units to U.S. and international clients for over two years, the AB-200 unit officially passed the 40 CFR 60 subpart OOOO certification in November 2018. More details on how new and existing AEREON customers can benefit from the AB-200 unit can be found at http://www.aereon.com.
AEREON, a Turnbridge Capital portfolio company, is a global leader in gas and vapor combustion and vapor recovery technologies and services. AEREON was established in 2012, when Flare Industries acquired Jordan Technologies. Today, AEREON offers the industry's broadest product line of air emissions control equipment, including custom and standard flare systems, enclosed combustion systems, and vapor recovery units (VRUs) along with comprehensive aftermarket service and parts support to its global customer base.
Turnbridge Capital is an energy-focused private equity firm with offices in Dallas and Houston, Texas. The firm typically invests alongside experienced management teams in companies that provide products and services to the upstream, midstream, downstream, and other energy-related infrastructure segments. For more information on Turnbridge, please visit http://www.turnbridgecapital.com.
For contact information: 
Gene Sparkman 
VP Sales & Marketing 
16310 Bratton Lane, Suite 350 
Austin, TX - 78728 
+1 (512) 836-9473 EXT 254 gsparkman@aereon.com
Related