Latchless Couplings suit liquid cooling applications.
Press Release Summary: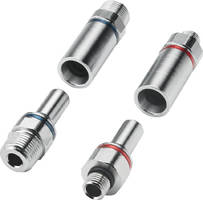 With rugged metal housing, redundant sealing, and latchless design, RPLQ4 Series is intended for rack mounted liquid cooling applications. Non-spill shutoff valves allow hot swappable connections without drips, protecting valuable electronics. Offered with ¼ and 3/8 in. terminations in SAE and NPT configurations, color-coded quick-disconnect couplings are constructed from chrome-plated brass, polysulfone, and stainless steel materials that ensure chemical compatibility.
---
Original Press Release:

CPC Broadens Offering of Liquid Cooling Specific Couplings



Specialized rack mounted latchless connectors provide drip-free connections that protect valuable electronics



St. Paul, Minn. – CPC (Colder Products Company), the leading provider of quick disconnect couplings and fittings for plastic tubing, announces the expansion of its LQ product family to include RPLQ4 Series Couplings. Designed specifically for rack mounted liquid cooling applications, RPLQ4 Series couplings utilize patent-pending valve technology. These specialized couplings deliver reliability, security and ease-of-use to cooling applications where a drip-free connection is critical.



"The LQ valve technology makes it possible for the coupling to withstand long periods of time in the connected state with ultra-reliable protection from drips at disconnect," says David Vranish, liquid cooling applications engineer. "The rugged metal housing, redundant seals and latchless design of the RPLQ4 make it a perfect option for rack mounted liquid cooling applications where reliability and ease of use are critical."



RPLQ4 Series couplings include non-spill shutoff valves that allow hot swappable connections without spills or drips. The patent-pending valve design includes redundant sealing when connected, providing added protection against leaks. The rack mountable RPLQ4 was designed to allow for engagement tolerance. In order to achieve maximum flow, the connector must be within 1/8" of fully engaged.



Offered in 1/4- and 3/8-inch terminations, the RPLQ4 has straight thread port (SAE) and pipe thread (NPT) configurations. It also features color-coding of chrome with cool blue or warm red for instant visual difference between cooling lines.



The RPLQ4 Series couplings are constructed from chrome-plated brass, polysulfone and stainless steel materials that ensure dependable strength and chemical compatibility for a wide range of applications. Designed specifically for rack mounted cooling applications requiring multiple connect and disconnect cycles, RPLQ4 series quick disconnect couplings are ideal for liquid cooling applications that require quality and performance including electronics chip fabrication and test equipment, servers, high performance computing, laser cooling; and in medical devices that need to be cooled such as MRI systems, power systems, high-end medical machines.



In addition to the new RPLQ4 Series couplings, CPC offers LQ4 and LQ6 Series couplings for liquid cooling applications requiring a 1/4- and 3/8-inch flow.



To discuss how your fluid handling application will benefit from integrating the latchless RPLQ4 Series couplings, visit us online at cpcworldwide.com/RPLQ4.  For information on any of the other 10,000+ innovative connection solutions CPC offers, visit us online at cpcworldwide.com.  



About CPC

CPC (Colder Products Company) is the leading provider of quick disconnect couplings, fittings and connectors for life sciences, industrial and chemical handling markets. CPC is a business unit of Downers Grove, IL based Dover Corporation. For a free catalog or more information, contact: Colder Products Company, 1001 Westgate Drive, St. Paul, MN 55114. Phone: 651-645-0091. Toll-free: 800-444-2474. Fax: 651-645-5404. Web: cpcworldwide.com.



CPC, Colder Products, Colder Products Company and Dover are registered trademarks with the U.S. Patent & Trademark office.



Editorial Contact:

Brittny Larson

CPC

Tel: +1 651-603-2610

Email: Brittny.Larson@cpcworldwide.com

More from Software