Latching Solenoid Valves suit fluid control applications.
Press Release Summary: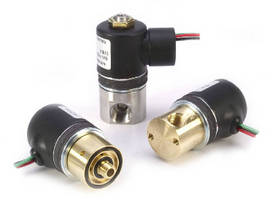 Offered with choice of 2-way or 3-way design, BL Series allows users to pulse valve itself, facilitating change of state into closed or open position, depending on requirement. General purpose valves do not require continuous voltage to hold designated state. Latching refers to open state condition, during which supply pressure goes to external valve. Applications include natural gas separation, natural gas plunger lifts, gas chromatography equipment, irrigation systems, and pneumatic pipelines.
---
Original Press Release:

Gems Sensors & Controls Reintroduces 2-Way and 3-Way General Purpose Latching Solenoid Valves



FOR IMMEDIATE RELEASE – Plainville, Connecticut, USA – Gems Sensors & Controls (Gems) (www.gemssensors.com), a leading oil and gas industry supplier of liquid level, pressure and flow sensors, as well as fluid control devices, has reintroduced its BL Series of general purpose latching solenoid valves.



The Gems BL Series is designed to support demanding fluid control requirements, such as those common to natural gas separation, natural gas plunger lifts, gas chromatography equipment, irrigation systems, pneumatic pipelines, and others.



Offered with choice of either 2-way or 3-way design, the BL Series allows a user to pulse the valve itself. This facilitates its change of state into a closed or open position, depending upon requirement, with fast response times. The series does not require continuous voltage in order to hold its designated state. The term "latching" solenoid valve refers to the Gems BL Series in its open state condition, during which supply pressure goes to the external valve. The "unlatched" solenoid valve refers to its closed state condition, during which supply pressure is cutoff and the external valve is exhausted to ambient.



The Gems BL Series is ideal for larger pneumatic valve control applications, particularly those with external power source limitations; undesirable coil heating; or where the temperature of flowing media must remain unaffected as it travels through a valve. Customers who incorporate the BL Series into larger pneumatic valve applications can further enhance the opening and closing functionality of larger pipes. Optional dual diode system protection is also available.



As a standard catalog product, the Gems BL Series is available for immediate customer order. Full-scale OEM volume manufacturing of standard models can usually proceed within just a few business days.



For more information about the BL Series or other solenoid valve products, please contact Gems Sensors & Controls toll-free at 1-800-378-1600, via email at info@gemssensors.com, or visit www.gemssensors.com.



Link to product page:

http://www.gemssensors.com/Products/Solenoid-Valves/General-Purpose/BL-Series-Latching-Valve



More from Packaging Products & Equipment