Latching Circulator-Isolator offers 1 µs switching speed.
Press Release Summary: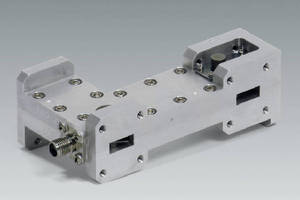 Covering bandwidths across 16–35 GHz range, Ka-Band Dual-Junction Latching Circulator-Isolator is suitable for satellite communications links, commercial aviation systems, missile systems, and other high-rel aerospace applications. Unit offers low insertion loss of 0.2 dB in transmit mode and 0.4 dB in receive mode. Device will handle +39 dBm transmit power with 25 dB isolation to protect receiver while transmitting, and is well matched with 25 dB return loss and better than -60 dBc RF leakage.
---
Original Press Release:

Ka-Band Latching Circulator-Isolator



TRAK Microwave announces a new Ka-Band Dual-Junction Latching Circulator-Isolator for high performance satellite communications links, commercial aviation systems, missile systems, and other high-rel aerospace applications. The unit can be designed to cover a variety of bandwidths across the 16-35 GHz range and offers 1 µs switching speed and a very low insertion loss of 0.2dB in transmit mode and 0.4dB in receive mode. The device will handle +39dBm transmit power with 25dB isolation to protect the receiver while transmitting, and is well matched with 25dB return loss and better than -60dBc RF leakage.



The suspended circulator-isolator ferrite element is supported with a temperaturestable dielectric material, avoiding the thermal variations of commonly-used PTFE, and employs an innovative field-cancelling technique minimizing external magnetic interference. The device is space-qualified, and TRAK can integrate the latching junction design into complex multi-function assemblies suitable to the customer's specifications.



More information visit: www.trak.com

TRAK Microwave

Toll Free: 888-901-7200

Ph: 813-901-7200

Fax: 813-901-7491

Email: sales@trak.com

www.trak.com



TRAK Microwave is an advanced RF and Digital technology company that designs and manufactures a diverse range of RF and microwave assemblies, subsystems, components, and time & frequency systems for high performance defense, space and commercial applications worldwide. TRAK is ISO 9001 and AS9100 registered. For more information visit www.trak.com



Smiths Microwave is a leading provider of components, sub-assemblies, antennas and systems solutions, primarily for defense and aerospace applications, and solutions that test, filter and process high-frequency signals for wireless telecommunication networks.



As a family of brands, Kaelus, Radio Waves, TECOM, TRAK, LORCH, TRAK Limited, Millitech, EMC Technology and Florida RF Labs provide exacting solutions for antenna systems for the military and commercial aerospace, transceivers, frequency sources, timing systems, component applications, and a wide range of innovative RF and Microwave solutions for the wireless telecommunications sector. Alongside Smiths Connectors and Smiths Power, Smiths Microwave is part of the Smiths Interconnect Division of Smiths Group, a global leader in applying advanced technologies for markets in threat and contraband detection, energy, medical devices, communications and engineered components. Smiths Group employs around 23,000 people in more than 50 countries. For more information visit www.smiths.com



More from Sensors, Monitors & Transducers