Latch/Eject Headers are suited for wire-to-board connections.
Press Release Summary: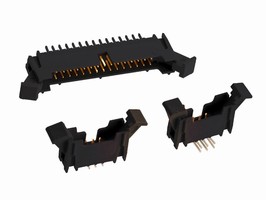 Measuring 2 x 2 mm, 3M family of latch/eject headers feature 13-pin count options from 6-50 positions. Connector bodies have cut-out to accommodate mating connectors with centre bump polarization and are made from PCT resins, allowing for high-temperature processing in lead-free environments up to 260°C in compliance with JEDEC J-STD-020C standard. Family offers RoHS compliant straight and right-angle plated pins, and through-hole tails for boards up to 31.75 mm thickness.
---
Original Press Release:

3M Introduces 2 mm Latch/Eject Headers for Wire-to-Board Applications



10th July, 2008, UK - Diversified technology company 3M now offers a 2mm by 2mm latch/eject header for wire-to-board connections. The compact header offers a durable, flexible solution for applications where circuit board space is a concern. The 3M 2mm latch/eject header provides a robust system solution when mated with 3M IDC 1522 series sockets and 3M 2mm moulded assemblies series. For further information please call 0870 6094639 or visit: www.3m.com/2mm

The header is suitable for a variety of electronic applications, including blade servers, medical electronics, motor control boards, data collection devices and high performance audio components.

The latch/ejectors maintain a secure connection to the cable assembly during operation, yet allow for easy removal of the harness when needed. 3M uses roll pins to attach the latches instead of a snap-in system, designed to enable connectivity in high-vibration applications and during shipping. The latch incorporates a unique design that resists breakage when ejecting the mating assembly, increasing system reliability.

The 3M family of 2mm latch/eject headers features 13-pin count options from six to 50 positions, offering design flexibility across applications. The connector bodies feature a cut-out to accommodate mating connectors with centre bump polarisation and are made from PCT resins, allowing for high-temperature processing in lead-free environments up to 260 Centigrade (in compliance with the JEDEC J-STD-020C standard). The family offers RoHS compliant straight and right-angle plated pins, and through-hole tails for boards up to 31.75mm thickness. A vertical surface-mount version is also available.

About 3M in the electronics market

3M, the diversified technology company, provides a comprehensive range of solutions for the electronics market in the UK and Ireland, from components through to chemicals. Covering multiple applications - including medical device technology, ICT, PCB, semiconductor, automotive and military/aerospace - 3M supplies products that aim to address the challenges designers and manufacturers face today.

About 3M

3M is a $24.5 billion diversified technology company which, since 1902, has been creating innovative products that help make the world healthier, safer and more productive. Well known 3M brands include Scotch, Post-it, Scotchgard, Thinsulate and Scotch-Brite.

3M employs 76,200 people worldwide, producing thousands of innovative products for customers in dozens of diverse markets in some 200 countries. Its 45 technology platforms touch nearly every aspect of modern life - the company has applied its expertise in RFID technology to deliver biometric passports; it is using its understanding of the healthcare industry to provide hospitals with infection prevention and detection solutions; and its digital signage offerings are revolutionising the way businesses communicate with their customers, their employees and the general public.

The UK and Ireland is home to one of the largest 3M subsidiaries outside the USA, employing 4000 people across 18 locations, including 12 manufacturing sites. Products manufactured in the UK include coated abrasives, occupational health and environmental safety equipment, adhesive tapes, industrial microbiology products, drug delivery systems, high-performance coatings, secure documents and passport scanners.

Related Links:-

3M Latch/Eject Headers - www.3m.com/2mm
3M Interconnect Solutions - http://www.3m.com/interconnect