Laser Windows are available in sizes from 0.5-2 in.
Press Release Summary: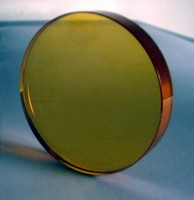 High power laser windows have flatness and surface finish optimized to lambda/10 and 40/20-10-5. Excimer window is made of VUV grade CaF2 and MgF2, and offers transmittance at 157 and 193 nm. Made of fused silica, Nd:YAG window allows transmission from UV to NIR. Sapphire single crystal IR window features minimal lattice distortion and inclusion, while CO2 window, made of GaAs ZnSe crystal, offers IR absorption coefficient of 10.6 µm.
---
Original Press Release:

Specialist High Power Laser Window



Laser Optex Inc.is please to announce the launch of high performance laser windows for high power lasers such as Excimer,CO2 and Nd:YAG laser #12290;

High power Excimer laser window, out of VUV grade CaF2&MgF2,high transmittance at 157 nm and 193nm.

High power Nd:YAG laser window , out of corning fused silica, good homogeneity and transmission from UV to NIR.

High power IR laser window, out of laser grade sapphire single crystal, minimal lattice distortion and inclusion.

High power CO2 laser window, out of laser grade GaAs, ZnSe crystal, minimal infrared absorption coefficient at 10.6µm.

Flatness and surface finish are optimized to lambda/10 and 40/20-10-5 for the least amount of error in the transmitted wave front.

Stock standard size laser window from 0.5 to 2 inch.

Custom size, wavelengths and AR&BBAR coating are available upon request.

Company Name: Laser Optex Inc.
City: Beijing
Zip: 100080
Country: China
Phone: +86-10-62634557
URL: www.laseroptex.com

Contact Name: Adam Wang
Organization:
Title: Sales engineer
E-mail: sales@laseroptex.com

More from Architectural & Civil Engineering Products