Laser Tube Cutting System handles small to medium-sized tubes.
Press Release Summary: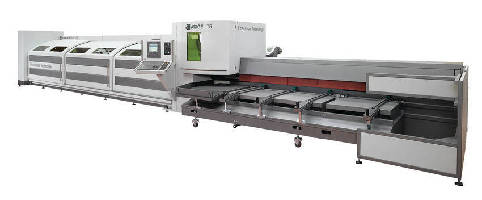 Equipped with 1 kW IPG fiber laser, Lasertube LT5 cuts stainless steel up to 4 mm thick, mild steel up to 6 mm, aluminum and brass up to 3 mm, and copper up to 2 mm. Compared to CO2 laser, fiber laser offers optimized energy efficiency while eliminating routine maintenance and optical beam alignments. Automated cutting system can handle round tubes up to 120 mm in diameter, square tubes up to 100 mm, and rectangles, ovals, and elliptical semi-flat/full up to 120 x 70 mm.
---
Original Press Release:

BLM Group USA to Feature Fiber Laser Tube Processing System at FABTECH 2013



LT5 Fiber Laser and ELECT XL Tube Benders highlight exhibit of laser tube processing technologies



BLM GROUP USA, Wixom, MI, (www.blmgroup.com), a global leader in the manufacture of tube processing solutions will display its wide array of equipment in booth S-3907 at FABTECH 2013, November 18-21, 2013 in Chicago. The company will feature its LT5 Fiber Laser and ELECT XL Tube Bender machines in the exhibit.



LT5, the newest member of the Lasertube family from BLM GROUP, is an entry level automated laser tube cutting system designed to handle small and medium-sized tubes. Thanks to the versatility of its advanced 1kW IPG fiber laser, the new LT5 can efficiently process mild steel as well as highly reflective materials such as aluminum, copper, and brass.



The system's fiber laser provides a dramatic improvement in energy efficiency when compared to the more traditional CO2 laser, leading to as much as a 50% reduction in hourly operating costs. Matched with that are savings from the elimination of routine laser maintenance and optical beam alignments. Its low operating costs, flexibility, and high cutting speeds, coupled with its extreme ease of use and high reliability, make the new LT5 an ideal cost and productivity solution for small tube processing.



The ELECT XL™ all-electric 12-axis tube bending machine provides productivity, flexibility and accuracy to the bending of large diameter (up to 150 mm/6 in.) tube, making it the ideal choice for many demanding automotive, machinery, motorcycle, hydraulic, railway and shipyard applications.



The system is a multi-stack bender capable of holding up to 8 tool sets permitting rapid processing of complex parts and faster changeover, benefits not generally associated with the bending of large diameter tubes. Another key to ELECT XL's superior performance is VGP3D, its easy to use, yet advanced 3D graphical programming software.



Information will also be available on the company's LT JUMBO Series, an automatic laser tube cutting system designed to bring higher levels of precision to large diameter, thick walled tubes; the new EM80, an integrated CNC end machining center to cut, chamfer, face, bore, thread and profile tube; and the company's automatic tube saw lineup that provides an advanced tube cutting system to combines high productivity, accuracy, economical operation, and an exceptional degree of flexibility.



BLM GROUP is a global leader in tube processing solutions. Its product line includes laser cutting, cold sawing, bending, end-forming, and tube measurement equipment, as well as wire bending machines. With more than 50 years of tube experience and thousands of applications, the BLM GROUP is a leader in the manufacture of tube fabrication equipment.