Laser Trimming Stations suit automated assembly equipment.
Press Release Summary: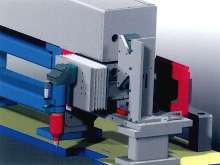 Laser trimming stations cut profiles into conveyed plastic components with production rates of one part each 3 seconds (laser cut requires 1.5 seconds). Stations utilize Coherent Diamond K150 sealed lasers, linear motor stages, and Delta Tau controller. Configured to operate automatically, they take commands and send status directly to main machine controller via digital interface. Up to 255 selectable profiles are stored in non-volatile memory.
---
Original Press Release:
AltaMAR Develops Fast Laser Trimmer For Automated Assembly Equipment

Fridley, MN August 2, 2002 - Today AltaMAR Laser and Control announced that it has shipped and installed two high-speed laser trimming stations which have been integrated into automated assembly equipment. These laser trimming stations cut profiles into the plastic components as they come by the station on a conveyer. The production rate is one part each three seconds, with the laser cut requiring only 1.5 seconds. The laser process replaced mechanical punch devices because of its greater flexibility, better edge quality, and lower maintenance when compared to mechanical methods.

The laser trimming stations utilize Coherent Diamond K150 sealed lasers to cut the polypropylene components. Linear motor stages from Aerotech and a controller from Delta Tau comprise the motion stage. The laser trimmer stations are configured to operate automatically - taking commands and sending status directly to the main machine controller via a digital interface. Up to 255 different profiles are selectable, all stored in non-volatile memory on the Delta Tau control card. The control interface is configured so that any profile can be applied to any part. Profiles can be added or changed in minutes with simple programming changes.

These laser trimming stations have been operating 24 hours a day since installation. When placing the order, the customer realized that they were taking a risk by selecting laser trimming over conventional mechanical cutting methods, but were ultimately persuaded by the additional flexibility, speed, and improved edge quality provided by the laser process. The reliability of the sealed Coherent Diamond lasers also played a role in their decision.

AltaMAR Laser and Control, in business since 1999, provides precision laser products and services in industrial and medical markets. AltaMAR is a full-service laser job shop and system developer with specialties in laser tube cutting services and equipment, and laser trimming and welding stations for high-speed automatic assembly machines. For more information contact Dan Martin or Mark Davis at 763-586-7906 or visit our web site at www.altamarinc.com.

AltaMAR Laser & Control

452 Northco Drive. Ste 170

Fridley, MN 55432

Voice: 763-586-7906

Fax: 763-586-7908

www.altamarinc.com
More from Electrical Equipment & Systems