Laser Transmitter uses 1 micrometer wavelength.
Press Release Summary: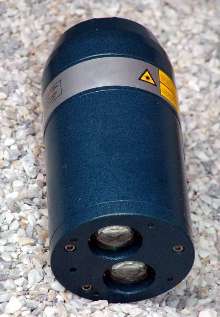 Featuring all digital design, LaserTrak 200 measures level, position, and distance of bulk solids at up to 200 ft. Timing systems and self-correcting signal processing allow measurement in harsh conditions. Housed in NEMA 4X aluminum enclosure, unit includes stainless steel dust tubes with built-in purge port to prevent dust build-up and protect optical lens from being coated. Transmitter can be programmed with desktop/laptop PC as well as Palm or Pocket PC.
---
Original Press Release:

ASI Instruments Announces High Accuracy Laser Transmitter for Dry Bulk Solids


Measures Level, Position, & Distance Over Long Ranges in Harsh Environments

New laser device uses advanced timing and sophisticated signal processing to provide pinpoint accuracy at up to 200 feet

Las Vegas, NV (September 27, 2004)- ASI Instruments, a leading manufacturer of state-of-the-art level instrumentation for detection and measurement of dry bulk solids, today announced the LaserTrak 200 laser transmitter at MINExpo International 2004, the mining exposition. Designed for measuring bulk solids at distances of up to 200 feet (60 meters), the LaserTrak 200 uses an extremely small wavelength. This means it has virtually no beam divergence and can be narrowly focused even over long distances. The device's all-digital design provides speed and accuracy in a compact unit.

An advanced timing system and self-correcting signal processing functions allow it to accurately and reliably make measurements in the harshest conditions. The system can select the true signal even in the presence of dust, as is commonly found in silos of coal, plastics, or grain, as well as in underground mines or quarries.

The LaserTrak 200 is housed in a rugged, powder coated aluminum enclosure < rated for IP65 or NEMA 4X, with Class II and III, Division 1 and 2, Groups E, F, G dust ignition proof ratings to FM and CSA. This ensures operation in a variety of challenging environments. Stainless steel dust tubes with built-in purge port prevent dust build-up and protect the optical lens from being coated.

"ASI Instruments' laser transmitters go far beyond the abilities of other dry bulk level measurement technologies," said Rick Ayers, Vice President of Sales at ASI Instruments. "No beam divergence means pinpoint accuracy over long distances. Advanced signal processing software allows the device to adapt to extremely harsh environments. You can throw dust, vibration, and changing angles at the LaserTrak 200 and it will still accurately provide the crucial measurements you need."

Pinpoint Accuracy
The LaserTrak 200 transmitter takes measurements using a laser with an extremely small wavelength of ~1 micrometer. This means there is no angle divergence and so the device can be narrowly focused over long distances, ensuring that it does not pick up interference from surrounding objects.

Oblique angles can be measured with pinpoint accuracy. This allows it to operate within complex vessels, even if they contain internal structures such as ladders or standpipes. The LaserTrak 200 is also immune to echoes and reflections, providing consistent performance on solids and total immunity to "cone up" and "cone down" variations in the material being measured.

The LaserTrak 200 features an all-digital system architecture that allows the software to perform distance measurements quickly, then dedicate more time for sophisticated signal processing, data analysis, and distance display. Variable gain allows the LaserTrak 200 to select the best return signal in quickly changing visibility conditions, such as dust, vapors, and materials of different colors. This is especially useful in underground mines where high dust levels and excessive vibration can render other non-contact technologies inoperable. Color compensation corrects for weak or excessive return signals. Last pulse detection selects true signals from among the many that are reflected from dust clouds, agitator blades, or other obstacles.

The LaserTrak 200 is a stand-alone unit that requires no calibration or special configuration. It is easily programmed with a Palm or Pocket PC handheld device or a desktop/laptop personal computer. Portable mounting options allow users to position the laser in any direction. No safety glasses are required as ASI Instruments uses Class 1 lasers, making the LaserTrak 200 products safe for the human eye.

Pricing & Delivery
ASI Instruments' LaserTrak 200 laser level transmitters are available for immediate shipment. Prices start at $2600. Delivery is one week from receipt of order.

About ASI Instruments
ASI Instruments, Inc. (Houston, Texas, USA) specializes in manufacturing a broad range of high reliability level instruments for dry bulk solids measurement. Founded in 1978, the company has a reputation for taking on the toughest level applications, including coal, rock crushing, and carbon black. ASI manufactures a complete line of rotary paddle switches, vibrating fork switches, plumb bobs, RF capacitance switches & transmitters, ultrasonic transmitters, laser transmitters, and guided wave radar devices.

Used in over 50,000 installations throughout North America and South America, ASI's products can be found in such applications as grain processing and milling, plastics manufacturing, aggregates, building materials, and food production. ASI Instruments is a division of K-TEK LLC which is located in Prairieville, Louisiana, USA. For more information, please visit www.asiinstruments.com.

For further information, contact:
Kevin Hambrice, Director of Marketing
ASI Instruments, Inc.
8570 Katy Freeway, Suite 117
Houston TX 77024 USA
+1 225.673.6100, Fax: +1 713.461.7348
Email: khambrice@asiinstruments.com
Web: www.asiinstruments.com

© 2004 ASI Instruments, Inc. All rights reserved. ASI Instruments and LaserTrak are trademarks of ASI Instruments. Other product and service names mentioned here are trademarks of their respective owners.

More from Software