Laser Transmitter measures solid surface at any angle.
Press Release Summary: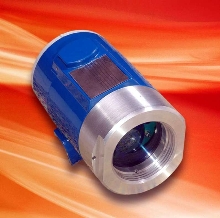 EasyTrak(TM) XP measures level, distance, and position in dry bulk solids with virtually no beam divergence and no false echoes. Housed in explosion-proof aluminum enclosure with IP67 or NEMA 4X and DIP ratings, unit provides accurate measurements regardless of presence of vapor or moderate dust. All-digital design features advanced timing system and self-correcting DSP functions. EasyTrak XP is programmed via Palm or Pocket PC handheld device or desktop/laptop computer.
---
Original Press Release:

ASI Instruments Announces EasyTrak(TM) XP, Explosion-Proof Laser Transmitter Measures Level, Distance, & Position in Challenging Bulk Solids Applications


Compact, all-digital design measures any solid surface at any angle with no beam divergence.

Houston, TX (June 6, 2005) - ASI Instruments, a leading manufacturer of state-of -the-art instrumentation for level detection and measurement of dry bulk solids, today announced the EasyTrak(TM) XP laser transmitter, designed for measuring dry bulk solids, regardless of the presence of surrounding vapor or moderate dust. The device is housed in an explosion-proof assembly with screw-on cover for quick and easy access. The dual-compartment design allows users to isolate the wiring and terminations from the sensing elements and internal electronics. Meeting the requirements for use in hazardous areas (FM and CSA - Class I, Division 1 and 2, Groups A,B,C,D), the EasyTrak XP's rugged, powder coated aluminum enclosure is rated for IP67 or NEMA 4X and DIP ratings. This ensures operation even in the harshest of conditions.

The EasyTrak XP can measure virtually any solid surface at any angle, whether grain, plastics, or aggregates. The small wavelength of the laser means a narrower beam with virtually no beam divergence and, therefore, no false echoes. This provides high accuracy readings even when dealing with the most challenging circumstances, such as measuring inside silo cones and even silo chutes or through narrow openings in protective grids.

State-of-the-Art Laser Technology
The EasyTrak XP measures distances from 1 to 50 feet (0.3 to 15 meters). The precise, pulsed laser diode features virtually no beam divergence (0.2? beam spread) and no false echoes. As a result, the laser can be directed through very tight spaces, as small as two and a half inches in diameter.

The EasyTrak XP is immune to reflections and echoes, thus providing consistent performance on solids and immunity to "cone up" and "cone down" variations in the material being measured. It is available in a small, compact enclosure and provides a better alternative to open air radar and ultrasonic devices.

"The EasyTrak XP transmitter combines the unique level measuring capabilities of laser technology with the ruggedness of an explosion-proof enclosure," said Ivo Radanov, Product Manager for Lasers and Ultrasonics at ASI Instruments. "Unaffected by dielectric constant, vapors, reposing angles, moderate dust, or turbulence, the EasyTrak XP can accurately measure even in the harshest of environments. The narrow laser beam and the ability to detect surfaces at oblique angles mean the transmitter can measure virtually any surface at any angle. And with no beam angle divergence, there is no interference from the surroundings."

All Digital Design & Unique Timing System
The EasyTrak XP delivers speed and accuracy in a compact unit. Users are up and running quickly because no calibration or special configuration software is required.

The unique, all-digital design features an advanced timing system and sophisticated, self-correcting digital signal processing (DSP) functions. This provides accurate and reliable measurement of level, distance, and position in the harshest of conditions. The EasyTrak XP is able to select true signals even in the presence of surrounding noise, such as moderate dust or agitator blades. The transmitter's variable gain allows the system to select the best return signal in quickly changing visibility conditions such as moderate dust, vapors, and materials of different color. Color compensation corrects for weak or excessive return signals, even at high speeds. Readings can be updated as quickly as three times per second. A stainless steel dust tube prevents dust build-up and protects the optical lens from being coated.

The EasyTrak XP is easily programmed with a Palm or Pocket PC handheld device or a desktop/laptop personal computer. Convenient, portable mounting options allow users to position the laser in any direction. ASI Instruments uses Class 1 lasers, making the EasyTrak products safe for the human eye. No special safety glasses are required.

Pricing & Delivery
ASI Instruments' EasyTrak XP explosion-proof laser level transmitters are available for immediate shipment. Prices start at $1950. Delivery is one week from receipt of order.

About ASI Instruments
ASI Instruments, Inc. (Houston, Texas, USA) specializes in manufacturing a broad range of high reliability level instruments for dry bulk solids measurement. Founded in 1978, the company has a reputation for taking on the toughest level applications, including coal, rock crushing, and carbon black. ASI manufactures a complete line of rotary paddle switches, vibrating fork switches, plumb bobs, RF capacitance switches & transmitters, ultrasonic transmitters, laser transmitters, and guided wave radar devices. Used in over 50,000 installations throughout North America and South America, ASI's products can be found in such applications as grain processing and milling, plastics manufacturing, aggregates, building materials, and food production. ASI Instruments is a division of K-TEK LLC which is located in Prairieville, Louisiana, USA. For more information, visit www.asiinstruments.com.

For further information, contact:
Kevin Hambrice, Director of Marketing
ASI Instruments, Inc.
8570 Katy Freeway, Suite 117
Houston TX 77024 USA
800.245.7056, +1 225.673.6100, Fax: +1 713.461.7348
Email: khambrice@asiinstruments.com
Web: www.asiinstruments.com

PR Office:
Shari Worthington, President
Telesian Technology
49 Midgley Lane
Worcester, MA 01604 USA
+1 508.755.5242, Fax: +1 508.795.1636
Email: sharilee@telesian.com

ASI Instruments and EasyTrak are trademarks of ASI Instruments. Other product and service names mentioned here are trademarks of their respective owners.

More from Services