Laser Systems cut accurately.
Press Release Summary: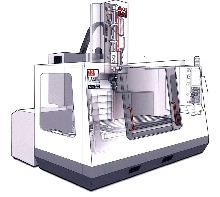 Z-1 and Z-2 Laser Cutting Systems combine rigidity and accuracy of VMC with Coherent Diamond-Series CO2 pulsed lasers. Z-1 has 100 W laser and 16 x 12 x 10 in. (XYZ) travel, making it suitable for etching, engraving and cutting small metallic and non-metallic parts. Z-2 has 500 W laser and travels of 40 x 20 x 25 in. Both are available with 4th and 5th axis, providing ability to tackle multi-sided parts and complex operations in single setup.
---
Original Press Release:

Haas Laser Systems Provide VMC Accuracy


Laser cutting systems are seeing growing use these days in many areas, including the medical, electronics, fabrication and manufacturing industries. But finding a fully integrated laser system that is accurate, easy to use and affordable can be problematic. Many of the systems available are designed primarily for light-duty sheet work and won't stand up to the rigors of heavy use. Others require users to purchase components separately - laser, motion platform, control - and integrate them into a system that may or may not fit their particular needs.

The new Z-1 and Z-2 Laser Cutting Systems from Haas Automation, Inc., provide a solution to these common problems. By combining the renowned rigidity and accuracy of Haas VMCs with the proven reliability and features of Coherent Diamond-Series lasers, these innovative new machines provide performance and ease of use that is unmatched in the industry. Both systems are fully integrated and ready to use.

The Haas Z-1 starts with the popular Mini Mill platform and adds a 100-watt Coherent Diamond-Series sealed CO2 pulsed laser. The 16" x 12" x 10" (xyz) travels and compact footprint make the Z-1 perfect for etching, engraving and cutting small parts in both metallic and non-metallic materials. The machine's generous Z-axis work capacity allows laser operations on parts up to 14" in height. The Z-2 Laser Cutting System provides longer travels and increased laser power to accommodate larger jobs and heavier materials. Based on the Haas VF-3, the Z-2 has travels of 40" x 20" x 25" (xyz), with a Z-axis clearance up to 29". Cutting is performed by a 500-watt Coherent Diamond-Series laser.

Unlike most laser systems, the Haas Z-1 and Z-2 are available with full 4th- and 5th-axis capabilities, providing the ability to tackle multi-sided parts and complex operations in a single setup. Generous work cubes easily accommodate large workpieces or 4th- and 5th-axis rotary tables, as well as the more common sheet work.

The Z-1 and Z-2 easily cut a variety of materials - plastics, cardboard, foam, leather, plywood, rubber, steel, fabric, ceramics - for such applications as die-board cutting, gasket cutting, slitting, sign and display making and medical/dental component manufacture. The 10.6 micron wavelength of the Coherent Diamond lasers yields excellent beam quality that produces narrow kerfs, and a recirculating water chiller keeps the laser at normal operating temperatures. Positioning accuracy for both machines is ±0.0002", and they feature Class 1 enclosures for safety. The Haas Laser Cutting Systems use the same user-friendly control as all Haas machines. They accept ISO standard G-code programming and are compatible with all popular CAM systems. Options include 4th- and 5th-axis rotary capabilities, a vacuum hold-down system and an exhaust filter system to remove fumes and smoke. An assist-gas manifold and filter are also available for cutting steel and other metals.


More from Mechanical Components and Assemblies