Laser Shaft Alignment Tool operates with just 3 steps.
Press Release Summary: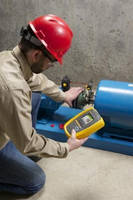 With intuitive interface, Fluke® 830 delivers precise shaft condition measurements and actionable results that, along with vibration testing, IR thermography, and other predictive maintenance measurements, enable maintenance teams to maximize machine life. Three steps include: Setup, which determines machine's dimensions; Measure, which takes readings from 3 sectors as laser is rotated around shaft; and Diagnose, which provides correction numbers along with 4-level, color-coded severity scale.
---
Original Press Release:

New Fluke 830 Laser Shaft Alignment Tool Shortens Motor Shaft Evaluation and Correction to Three Simple Steps



Precision shaft alignment is an essential part of any comprehensive maintenance program



EVERETT, Wash., – Shaft misalignment in rotating machinery has the potential to cost companies thousands of dollars a year in replacement bearing cost, repairs, extra power consumption, and unplanned downtime. In three simple steps, the Fluke® 830 Laser Shaft Alignment Tool delivers precise shaft condition measurements and actionable results that, along with vibration testing, infrared thermography, and other predictive maintenance measurements, enable plant maintenance teams to increase machine life and keep plants running at maximum efficiency.



Shaft misalignments as small 0.06 mm can cause failures of seals, couplings, and bearings as well as increase motor vibration and heat. Traditional alignment methods, like straightedges/feeler gauges, are too imprecise to measure small yet significant shaft offsets. Dial indicators provide higher resolution, but are complex, time consuming, and require highly skilled technicians.  



In three simple steps, the single laser measurement technology of the rugged Fluke 830 delivers a high level of precision and repeatability in evaluating shaft alignment:



1. Setup - determines a machine's dimensions;



2. Measure ­- actively takes readings from three sectors as the laser is rotated around a shaft;



3. Diagnose - provides actual correction numbers along with a four-level, color-coded severity scale indicating whether the machine is in or out of alignment tolerances.



The intuitive guided user interface of the 830 provides easy to understand results that do not require extensive alignment knowledge. Its all-in-one results screen shows both coupling results and feet corrections (vertical and horizontal) in real terms making it easy for maintenance technicians to take corrective action.



Fluke offers a complete line of predictive maintenance tools designed to help keep plants up and running, including vibration testers to diagnose fault and severity, and infrared cameras to evaluate machine health. Fluke predictive maintenance tools deliver the measurements needed to reduce unplanned downtime and decrease repair costs. 



For more information on the Fluke 830 Laser Shaft Alignment Tool, visit: www.fluke.com/lasershaftalignment.



Fluke Corporation

For information on Fluke tools and applications, or to find the location of a distributor, contact Fluke Corporation, P.O. Box 9090, Everett, WA USA 98206, call (800) 44-FLUKE (800-443-5853), fax (425) 446-5116, e-mail fluke-info@fluke.com or visit the Fluke Web site at www.fluke.com.



About Fluke

Founded in 1948, Fluke Corporation is the world leader in compact, professional electronic test tools. Fluke customers are technicians, engineers, electricians, and metrologists who install, troubleshoot and manage industrial, electrical and electronic equipment and calibration processes.



Fluke is a registered trademark of Fluke Corporation. The names of actual companies and products mentioned herein may be the trademarks of their respective owners. For more information, visit the Fluke website.



For more information:

Leah Friberg

Public Relations Manager

(425) 446-5905

leah.friberg@fluke.com

More from Electronic Components & Devices