Laser Scanning System provides reverse engineering.
Press Release Summary: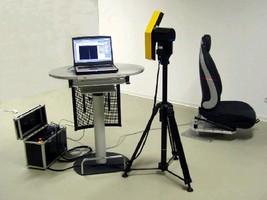 Consisting of control, sensor, and swivel head, portable MobileScan 3D weighs 26 lb and can be carried to job site. Sensor projects laser light onto surface of object being measured while camera continuously triangulates changing distance and profile of laser, accurately replicating object. System can resolve to less than .001 in. for measurement value of 60 in³. MobileScan 3D connects to notebook PC via USB or Firewire and captures up to 20 mil points.
---
Original Press Release:


NVision Introduces MobileScan 3D Portable Laser Scanning System




(August 25, 2005) -- NVision has announced the introduction of the MobileScan 3D portable laser scanning system which provides the high accuracy and speed of laser scanning in an easily transportable low-cost package. The complete system including control unit, sensor and 1-axis swivel head weights only 26 pounds so it can easily be carried direct to the job site. The new portable scanner provides very high resolution even in large measurement volumes. For example, it can resolve to less than one thousandth of an inch for a measurement volume of 60 inches cubed. "The MobileScan 3D provides high accuracy inspection and reverse engineering in a package that can easily be carried right to the object that requires measurement," said Steve Kersen, President of NVision.

The MobileScan 3D sensor mounts on a rotary 1-axis or 2-axis servo controlled swivel head that can be attached to either a tripod or table support. The sensor can be moved manually or automatically controlled by the included Wind3DS data capturing software. This means that the new scanner can be left alone to scan production items without the constant attention that is required by a handheld device. The sensor projects laser light onto the surface of the object being measured while a camera continuously triangulates the changing distance and profile of the laser as it sweeps along, enabling the object to be accurately replicated. The MobileScan 3D can quickly measure large parts while generating far greater numbers of data points than CMMs without the need for templates or fixtures. Since there is no probe that must physically touch the object, the problems of depressing soft objects and measuring small cavities are eliminated.

The MobileScan 3D connects easily to a notebook computer via USB or Firewire and is capable of capturing up to 20 million points. Before scanning and during the measurement process, the new laser scanner continually senses the objects surface and ambient light conditions and automatically adjusts the sensor to obtain the best possible measurements. All measurements are automatically transformed into a common coordinate system. The Wind3DS software provided with the MobileScan 3D produces an ordered data set or ASCII data. The scanner package also includes Raindrop Geomagic computer-aided inspection software that automatically processes scan data from a physical part to generate highly accurate polygon and parametric surface models. The Geomagic software also provides easy-to-understand graphical comparisons between CAD models and as-built parts.

"The Mobile Scan 3D is a logical extension to Nvision's range of Laser Scanning products, offering our customers a fully automated solution to customers' production inspection needs" said Giles Gaskell, Nvision Director of Business Development.

NVision, Inc. is the worldwide sales leader in the provision of 3D non-contact reverse engineering and inspection technology. Its reputation has been built on 14 years of experience in delivering unique three-dimensional scanners, software and consulting and bureau services. NVision's proprietary and patented tools have earned praise from clients such as Boeing, DaimlerChrysler, Disney, Ford, Harley Davidson, General Motors, John Deere, Johnson Controls, Lear, NASA, Porsche, Volkswagen, Peterbilt, Kenworth and Freightliner Trucks and the United States Army Corp of Engineers.

For more information, contact Giles Gaskell, Director of Business Development, NVision, Inc., 28265 Beck Rd. Ste C22, Wixom, MI 48393. Ph: 248.468.2525 or (Mobile) 248.756.2627, Fax: 248.692.0346. E-mail: ggaskell@nvision3d.com, Web: www.nvision3d.com


More from Computer Hardware & Peripherals