Laser Scanners offer volumetric measurement of bulk solids.
Press Release Summary: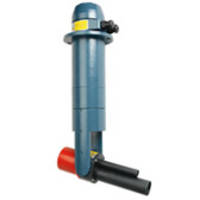 Model LM3D provides automated volume measurement and mass calculations of bulk materials. Device uses rotating laser head for multipoint laser scans to measure uneven surface of stored materials, creates 3D map of surface, and on-board microprocessor calculates stored material's volume and mass. LM2D incorporates non-contact sensor to measure conveyor speed and scanner head that scans profile of flowing material. On-board microprocessor calculates volume and mass throughput in real time.
---
Original Press Release:
K-TEK Announces Industry's First 3D Laser Scanner for Real-Time, Non-Contact Volumetric Measurement of Bulk Materials
3D laser scanner provides real-time volume measurement of silos and stockpiles; 2D laser scanner provides volume flow measurement of conveyor-based materials Prairieville, LA (February 11, 2008) - K-TEK, a leading manufacturer of state-of-the-art instrumentation for level measurement, today announced the LM3D and LM2D laser scanners, a new family of products for non-contact volumetric measurement of bulk solids. The LM3D is the industry's first real-time, three dimensional volume scanner profiler for bulk materials in silos or stockpiles. The LM2D is a real-time, non-contact volume scanner for conveyor-based materials that provides an accurate, easy-to-use, and maintenance free alternative to belt scales. Three Dimensional Laser Scanner The LM3D is the first instrument to provide fast, automated, and accurate volume measurement and mass calculations of bulk materials. The device uses a rotating laser head for multipoint laser scans to, either on-demand or periodically, measure the uneven surface of stored materials. A three-dimensional map of the surface is created in the scanner memory and the on-board microprocessor immediately calculates the stored material's volume and mass. Measurements can be transmitted via 4-20 mA or RS-232 interface to a DCS or PLC control system, or to third-party applications like Microsoft® Excel. This provides easy and inexpensive connections to the most common industry interfaces without the need for proprietary software. When the LM3D is not performing surface scans, it can be used for single point measurements. Setup is quick and intuitive using the device's built-in menu system. By combining multiple scanners, a variety of silo shapes and sizes can be accommodated. Two Dimensional Laser Scanner The LM2D is a two-dimensional laser scanner for non-contact volume flow measurement of belt conveyed materials. Designed to measure the flow of bulk solids materials on conveyor belts and monitor speed, the scanner is an easy-to-use, non-contact alternative to traditional belt scales. The LM2D incorporates a non-contact belt speed sensor that uses Doppler radar to measure conveyor speed. The scanner head scans the profile of the flowing material on the belt. An on-board microprocessor uses the information from the scanning head to calculate volume and mass throughput in real time. An integral laser pointer is provided to aid in alignment. Installation is quick, requiring only a few minutes, as opposed to belt scale systems which can take many hours or days to install. A plug-and-play device, the LM2D requires no calibration and no routine maintenance. Data can be sent to other devices using the standard 4-20 mA interface; separate outputs are provided for flow, cross-sectional area, and speed. No special software is needed. "Traditionally, level measurement of bulk materials is complex, often costly, and less accurate than liquid level measurement," stated Ivo Radanov, Product Manager for Lasers at K-TEK. "With rising fuel and logistical costs, bulk handlers are looking for different approaches to more accurate level and inventory measurement. Laser technology is an elegant solution that can uniquely provide non-contact, not just level, but also volume, measurement of a wide range of materials. Lasers have the unique ability to measure any solid surface at any angle with a very narrow beam. Therefore, it is natural for these lasers to be applied in sophisticated products for profiling of complex material shapes. This allows LM2D and LM3D laser scanners to bring volume accuracy for dry materials in silos and stock pile as low as 0.5%." New Generation Products Go Beyond Level Measurement K-TEK's LM3D and LM2D laser scanners are cutting edge laser products that go beyond simple level measurement. They feature three dimensional or two dimensional material profiling. Both instruments provide unique, non-contact volume, level, or flow measurement capabilities. The LM2D belt scanner is easily installed in minutes while the belt is moving and does not require regular maintenance. The LM3D is the first three dimensional laser scanner and profiler designed for the process industry. It can be applied in the mining, aggregate, grain, and coal power industry for volume measurement of stockpiles and silos. Both instruments have rugged, powder coated aluminum enclosures, rated IP66, which ensure reliable operation in variety of challenging environments. Integral dust tubes prevent dust built-up and prevent the optical lens from being coated. Pricing & Delivery K-TEK's LM3D and LM2D laser scanners are available for immediate shipment. Prices start at $11,000 for the LM3D and $11,000 for the LM2D. Quantity discount is available. The LM3D laser scanner data sheet can be downloaded at: www.ktekcorp.com/dnn20/Default.aspx?tabid=67&productID=109 The LM2D laser scanner data sheet can be downloaded at: www.ktekcorp.com/dnn20/Default.aspx?tabid=67&productID=108 About K-TEK LLC K-TEK is a leading manufacturer of state-of-the-art liquid and solids level instrumentation. Founded in 1975, the company pioneered the KM26 magnetic level gauge with extruded outlets and precision engineered floats and continues to set the pace in the industry with such innovations as AccuTrak, the first Fieldbus-compatible magnetostrictive level transmitter; SureShot, the first low cost, all digital design laser level and distance transmitter; Resonator, the first vibrating fork switch that features a one-step, external calibration process, eliminating hassles with equipment covers; and MT5000, the industry's first guided wave radar level transmitter with full waveform digital readout and display. The company also manufactures ultrasonic transmitters and a full line of point level switches, plumb bob devices, and field controllers. K-TEK's products are used in over 250,000 installations worldwide in such applications as chemical processing, oil and gas production, power generation, pulp and paper processing, mining and construction, food and beverage manufacturing, and plastics manufacturing. For more information, visit www.ktekcorp.com. For further information, contact: Kevin Hambrice Director of Marketing & Customer Service K-TEK 18321 Swamp Road, Prairieville LA 70769 USA +1 225.673.6100 Fax: +1 225.673.2525 Email: khambrice@ktekcorp.com Web: www.ktekcorp.com
More from Fluid & Gas Flow Equipment