Laser Range Meters measure distances up to 500 ft.
Press Release Summary: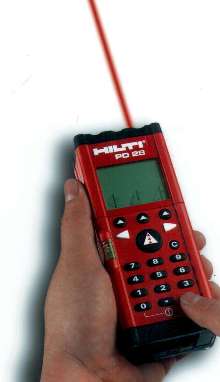 Models PD 22 and PD 28 provide measurements in 0.3 sec with accuracy of ±1/12 in. Pythagoras function can be used to measure height and width of building. In tracking mode, units measure distance continuously while operator moves tool. Model PD 28 includes data storage for up to 1,000 measurements, which can be transferred to computer or pocket PC. Both battery-powered meters include spike for corner measurements and bubble level for horizontal measurements.
---
Original Press Release:
Results That Really Measure Up: Hilti PD 22 & PD 28 Laser Range Meters
TULSA, (Okla.) - February 12, 2003 - With the simple touch of a button, the Hilti PD 22 and PD 28 Laser Range Meters measure distances faster and more accurately than conventional measuring methods. Simply aim the laser at the target, press the measuring key and the range Meters immediately show the distance up to 500 feet with pinpoint accuracy of ±1/12" and lightening speed of 0.3 seconds. Working remotely from a single location, the Pythagoras function can be used to measure the height and width of a building in seconds using only one person. Basic calculation functions integrated in the tool make child's play of the task of measuring the area of complete facades for scaffolding jobs, for example. Total window area can also be measured remotely and then deducted to provide the figures needed for a facade material estimate. Calculating volumes and quantities for pouring concrete foundations couldn't be easier. With the PD 28 the length and incline of an overhead pipe run can be determined just as easily, no matter how high the room, without you ever having to leave the floor. These new range meters prove extremely practical not only when taking measurements from a fixed location. In tracking mode, the Hilti PD 22 and PD 28 measure distance continuously with pinpoint accuracy while the operator moves the tool, making it easy to set out given distances from a reference point. This function is great for tasks such as marking out the exact spacing for the stanchions of a drywall partition. The range meter emits an audible signal when the point is reached where the next stanchion is to be positioned. The most significant difference between the PD 22 and PD 28 range meters is the Hilti PD 28's data memory function. Each individual value can be assigned a unique project number and measurement code by way of the numerical keypad. This is a great feature when the data needs to be used at a later time. The PD 28 offers data storage for up to 1,000 measurements and the capability to transfer data to a computer or Pocket PC. Both the Hilti PD 22 and PD 28 are light and durable, making them ideal for any jobsite. The range meters feature a built-in spike for virtually effortless corner measurements and a built-in bubble level provides reliable horizontal measurements. Each PD tool requires two AA batteries, which will provide up to 8,000 measurements. The precision of the PD 22 and PD 28 further increases your working efficiency by reducing rework and material use. For more information on the PD 22, PD 28 or other Hilti laser range meters, please contact Hilti Customer Service. From the US, call Hilti, Inc., at 1-800-879-8000; from Canada, call Hilti(Canada) Corporation at 1-800-363-4458. Additional information can also be found online at www.us.hilti.com or www.ca.hilti.com. About Hilti, Inc.:
Hilti is a world-leading manufacturer and supplier of quality, innovative and specialized tools and fastening systems for the professional user. With 750 highly trained Hilti field representatives throughout North America and an additional 1,300 Hilti employees nationwide, Hilti exp-.rtise covers the areas of powder-actuated fastening, drilling and demolition, diamond coring and cutting, laser positioning and measuring, firestopping, screw fastening, adhesive and mechanical anchoring, and strut and hanger systems.