Laser Processing Systems weld and cut metallic materials.
Press Release Summary: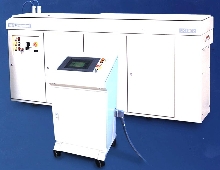 JK802 and JK1002 Nd:YAG laser systems utilize super modulation technology, which momentarily doubles laser's output intensity up to 2,000 watts. They include fiber system with built-in process detection and intuitive, self-protecting diagnostics. Flashlamps, which are designed for more than 1,000 hours of operation, are modular and can be changed on production floor. Systems are available with silver bullet automatic focus control cutting nozzles.
---
Original Press Release:
GSI Lumonics Introduces the JK802 & JK1002 for Cost-Effective Laser Cutting and Welding

FARMINGTON HILLS, MI & RUGBY, ENGLAND, May 2002 - GSI Lumonics
Inc. (Nasdaq: GSLI and TSE: LSI) introduces its JK802 and JK1002 Laser Processing Systems, a third generation of its highly-acclaimed JK Classic Series of Nd:YAG laser systems. These systems are specifically designed for industrial precision welding and high-speed cutting of metallic materials. Used heavily in the automotive industry for fuel injector welding and for cutting tubes and frames, this technology is transferable to any application where cutting or joining metal is required.

GSI Lumonics, who first brought CW lasers to the market in 1992, has designed the JK802 and JK1002 with a real market commitment to reducing total life cycle laser costs through innovation. In developing these robust laser systems, GSI Lumonics has drawn upon thousands of hours of operating experience and has refined, simplified, and tested their technological capabilities, incorporating them into this latest product offering.

These reliable laser cutting and welding systems offer a cost-effective combination of power, beam quality, and efficiency enabled by GSI Lumonics' patent-pending laser power "super modulation" technology. This super modulation technology momentarily doubles the laser's output intensity up to a maximum of 2,000W.

"Super modulation offers the speed of continuous-wave (CW) laser processing with the control of a pulsed laser," explained William LeBlanc, General Manager of the Rugby, England facility where the JK lasers are manufactured. "By allowing process engineers to truly control such factors as weld penetration, heat effected zones, cooling rates, kerf quality, cornering speeds, and burnback, we are able to offer the most complete and precise laser tool on the market."

Additionally, these new laser processing systems feature a patent-pending, super robust fiber system, with built-in process detection and intuitive, self-protecting diagnostics. Key optical modules are pre-aligned, reducing maintenance time by a factor of 15. Flashlamps, which are designed for more than 1,000 hours of operation, are also modular and can be changed on the production floor in ten minutes or less. Multiplexing options, time-shares, and energy-shares will also be available on this system. These systems are available with GSI Lumonics' "silver bullet" automatic focus control cutting nozzles, which are proven to be effective in the most demanding industrial applications.

The JK802 and JK1002 also feature a more intuitive graphical software interface, which decreases the level of experience required to operate this system. Remote modem diagnostics enables performance data to be ported out to a service center for diagnostics and repair.

GSI Lumonics Inc. brings laser-based automated advanced manufacturing systems and components to leading industrial companies worldwide. The Company supplies products and services to the semiconductor, electronics and industrial manufacturing markets, as well as precision optics for telecommunications. GSI Lumonics' common shares are listed on Nasdaq (GSLI) and The Toronto Stock Exchange (LSI). For more information on GSI Lumonics, please visit www.gsilumonics.com.

For more information, please contact:

Steve Crang

Corporate Communications Dept.

GSI Lumonics Inc.

22300 Haggerty Road

Northville, MI 48167 USA

Tel: 248-449-8989 x2664

Fax: 248-735-2460

E-mail: crangs@gsilumonics.com


Jeanna Sanchez

Director of Client Services

The Oddo Group

5927 Priestly Drive, Suite 102

Carlsbad, CA 92008 USA

Tel: 760-930-1003

Fax: 760-930-1004

E-mail: jsanchez@oddogroup.com
More from Test & Measurement