Laser Power/Energy Meter offers digital or analog display.
Press Release Summary: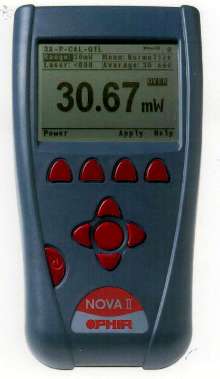 Compatible with thermal, pyroelectric, and photodiode heads, Nova II measures power or energy from pJ and pW to hundreds of Joules and thousands of Watts. It provides laser tuning, graphing, normalize, power or energy density units, attenuation scaling, and max/min limits. Unit offers non-volatile data storage of up to 50,000 points and includes USB and RS232 outputs. NIST traceable and CE marked, meter can be operated by battery or AC source.
---
Original Press Release:
New Versatile Laser Power/Energy Meter Offered by Ophir Optronics
o Compatible with all Ophir thermal, pyroelectric and photodiode heads o Choice of digital or analog needle display o Analog output o Log every point at up to 1000Hz with pyro heads o Non volatile data storage up to 50,000 points o Numerous software features such as density, min/max, scaling, etc. o USB and R232 outputs standard Wilmington, MA January 2004. Ophir Optronics, Inc. announces the release of their Nova II, the most versatile and sophisticated laser power/energy meter on the market. By plugging in one of Ophir's many smart heads, the Nova II becomes a measurement laboratory at your fingertips. The Nova II measures power or energy from pJ and pW to hundreds of Joules and thousands of Watts. In addition, this energy meter has many on board features such as laser tuning, data logging, graphing, normalize, power or energy density units, attenuation scaling and max and min limits. The Nova II can also display the power or energy with a high resolution analog needle and can be operated either by battery or from an AC source with the charger plugged in at all times. Other characteristics of the Nova II consist of many screen features, including power with bar graph, energy, average, exposure, frequency, graphs, scaling, special units and more. Complete online context sensitive help screens are also offered with the Nova II. The Nova II is NIST traceable and CE marked. The Company For more than 25 years, Ophir Optronics, Inc. has set the standard for the measurement of laser power and energy. Ophir, an ISO 9002 company, employs over 200 engineers, technicians and skilled workers. The company manufactures optical instrumentation, optical components and non-contact optical equipment for distance measurement and three-dimensional mapping of objects. The company's products are sold worldwide in over 25 countries. Ophir maintains marketing, sales and service centers in the USA, Japan. Israel and Genrinany. For further information contact: Laurie Beausoleil (Ophir Optronics, Inc.) Tel: 800-383-0814 Fax: 978-657-6054 E-mail: sales@ophiropt.com www.ophiropt.com
More from Computer Hardware & Peripherals