Laser Polarizers feature 10,000:1 extinction ratio.
Press Release Summary: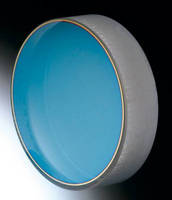 Designed with 45° angle of incidence, TECHSPEC® High Energy Laser Line Polarizers provide greater than 98% P-polarization transmission efficiency. Products are fabricated with UV grade fused silica substrate and have hard anti-reflective (AR) coating. Combination of high laser damage thresholds (2 J/cm², 10 ns at 532 nm) and availability for 355, 532, 633, and 1,064 nm laser wavelengths promote optimal performance in diverse laser applications.
---
Original Press Release:

TECHSPEC® High Energy Laser Line Polarizers Provide 10,000:1 Extinction Ratio



Greater than 98% P-Polarization Transmission Efficiency

Barrington, N.J. - Edmund Optics® (EO), the premier provider of optical components, introduces new TECHSPEC® High Energy Laser Line Polarizers. These versatile polarizers are used to efficiently polarize high power lasers with greater than 98% transmission of P-Polarized light.

High laser damage thresholds

TECHSPEC High Energy Laser Line Polarizers combine high laser damage thresholds (2J/cm2, 10 ns at 532 nm) with high extinction ratios of 10,000:1 for optimal performance in a wide range of laser applications. The polarizers are designed with a 45° angle of incidence and provide greater than 98% P-polarization transmission efficiency.

Hard AR coating for durability and easy cleaning

TECHSPEC High Energy Laser Line Polarizers are fabricated with a UV grade fused silica substrate for maximum performance. A hard anti-reflective (AR) coating provides outstanding durability and allows for easy cleaning and simplified alignment. The polarizers are available for common laser wavelengths including 355 nm, 532 nm, 633 nm and 1064 nm. TECHSPEC High Energy Laser Line Polarizers are in-stock and available for immediate delivery for fast turnaround and excellent value.

Edmund Optics offers over 1780 stock laser optics and accessories available for next day delivery. From Lenses and Mirrors to Filters and accessories, EO's laser optics are ideally suited for a wide variety of applications including life sciences, materials processing and beam steering. For a complete selection of EO's laser optics visit www.edmundoptics.com/laser-optics.

About EO:

Edmund Optics® (EO) is a leading producer of optics, imaging, and photonics technology for R&D, electronics, semiconductor, pharmaceutical, biomedical, and military markets around the globe. EO is the world's largest supplier of off-the-shelf optical components. Customers can purchase items by contacting EO at 1-800-363-1992, via the catalog, or via the website at www.edmundoptics.com.

Company Contact:
Kirsten Bjork-Jones
Director Global Marketing Communications
Edmund Optics®, Inc.
101 East Gloucester Pike
Barrington, NJ 08007 U.S.A.
Phone: 1-800-363-1992
Fax: 1-856-573-6295
email: kbjork-jones@edmundoptics.com

More from Mechanical Power Transmission