Laser Packages cut and weld machine tools.
Press Release Summary: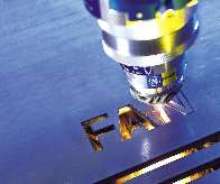 Models C5000-E and C6000-E are carbon dioxide laser sources offering 5 kW and 6 kW power. Laser source, CNC, and servomotors are integrated and interfaced as complete system. Laser communicates with CNC via optical bus, and all laser control and diagnostics are integrated into CNC. Historical data for maintenance purposes is logged and can be accessed via CNC screen. Both laser packages can simultaneously control up to 6 axes to enable 3-D machining.
---
Original Press Release:

GE Fanuc Announces New High Performance Laser Packages for Laser Cutting and Welding Machine Tools


CHARLOTTESVILLE, Va. - May 25, 2004 - GE Fanuc Automation Americas, Inc., a unit of GE Infrastructure, has introduced two new high-performance carbon dioxide laser sources designed for laser cutting or welding machine tools. The latest GE Fanuc C5000-E and C6000-E carbon dioxide laser sources are of 5kW and 6kW power. High beam quality allows the 5 kW model to cut thin material with extremely high speed and thick material with high quality surface finishes. With optimized beam quality, the 6 kW model covers a wide range of applications, such as stable cutting of 32 mm mild steel. The latest models complement the existing C1000-E, C2000-E and C4000-E models of 1kW, 2kW and 4kW power respectively. All models feature the latest radio frequency excitation technology.

The full range of GE Fanuc lasers are offered as laser-package solutions. Laser source, CNC and servomotors are integrated and interfaced as a complete system to optimize the machine performance, offering high speed and high accuracy. All necessary laser control and diagnostics are integrated into the CNC. Historical data for maintenance purposes is logged and can be accessed via the CNC screen. The laser source communicates with the CNC via an optical bus. No additional controller is required, and no further work is required by the machine manufacturer to link the laser and CNC.

The package solution ensures quick, faultless start-ups of laser machines. All laser control screens are available on the CNC. Direct control of the laser source by the CNC allows simplified handling for operation and maintenance purposes. Control of the laser and machine are always synchronized - as carried out by one processor. When used with linear motors, extremely high-speed cutting can be achieved. At the same time, all the usual features of the CNC can be used by the machine tool.

The package solution enables the integration of many useful laser-processing functions. These include diagnostic functions, processing parameter controls, and other special functions for efficient processing. At a sharp corner, the power and feed-rate are carefully controlled to optimize machining. Thermal loading is controlled when cutting thin material: the gap between the cutting nozzle and the workpiece surface is kept constant. Different beam properties can be compensated for on all axes. Additionally, the GE Fanuc laser package can simultaneously control up to six axes to enable highly efficient 3-D machining.

There is also an open architecture CNC option to enable the connection of a PC via a serial high-speed optical fiber link - which provides two-way transfer of large volumes of data. This feature allows Machine Tool Builders (MTBs) to customize machines to suit individual end user demands.

About GE Fanuc Automation
GE Fanuc Automation, a joint venture between GE and FANUC LTD of Japan, delivers automation hardware and software designed to help users reduce costs, increase efficiency and enhance profitability. With solutions and services catering to virtually every industrial segment, GE Fanuc Automation provides a diverse array of capabilities and products, including controllers, embedded systems, advanced software, motion control, CNCs, operator interfaces, industrial computers, and lasers. Headquartered in Charlottesville, VA, GE Fanuc Automation is a part of GE Infrastructure and combines the diverse global strengths of the GE family with the local presence customers need to design, develop and maintain their automation investments.

For more information, visit www.gefanuc.com or contact: GE Fanuc Information Center, P.O. Box 8106, Charlottesville, VA 22906, Phone: (800) GE FANUC, Fax: 434-978-5205, e-mail: gefanuc@gefanuc.com.

More from Fluid & Gas Flow Equipment