Laser Module captures pipe geometry using crawler.
Press Release Summary: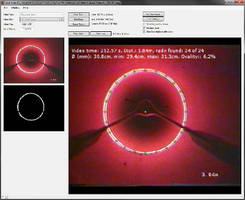 Available for WinCan v8 pipe inspection and asset management software, WinCan Laser module captures pipeline geometry using video inspection crawler outfitted with any laser profiling hardware. Module operates in parallel laser mode, ring mode, and scanning mode, allowing user to verify proper pipe installation, plan relining projects, monitor erosion/corrosion, and analyze partial collapses. Module accepts standard and HD video and links collected data to asset being inspected.
---
Original Press Release:

New WinCan(TM) Laser Module Captures Pipe Geometry Using Any Crawler-Mounted Laser Hardware



Pittsburgh, PA - New for WinCan V8 pipe inspection and asset management software, the WinCan Laser module from Pipeline Analytics makes it easy to capture pipeline geometry using a video inspection crawler outfitted with practically any laser profiling hardware.

"Until now, laser profiling has been very proprietary, with each inspection crawler brand having its own designated laser hardware and software," says Mike Russin, Account Manager with Pipeline Analytics. "WinCan Laser works with all crawlers and all laser hardware. This means you can use any equipment you like, and leverage your WinCan investment to save money and better integrate the data you collect."

The WinCan Laser module works in three modes, depending on the laser hardware used:

o In parallel laser mode, the camera head's twin laser dots are oriented perpendicular to the pipe wall and then rotated 360 degrees. The WinCan Laser module analyzes video from the crawler to determine pipe diameter and deformation at that single location. (The core WinCan package has additional tools allowing defect measurement using parallel lasers.)

o In ring mode, the WinCan Laser module analyzes video from the crawler, extracting the laser ring pattern. Trending the diameter and deformation of this ring frame-by-frame yields data that can be readily converted into a solid model, ovality graph or color plot.

o In scanning mode, the WinCan Laser module analyzes the laser dot pattern cast by any properly equipped side-scan camera, interpolating a ring to determine diameter and deformation. As in ring mode, these measurements can be trended frame-to-frame, yielding data that can be converted into a solid model, ovality graph or color plot.

The WinCan Laser module gives you all the geometric information you expect from laser profiling software, allowing you to verify proper pipe installation, plan relining projects, determine remaining pipe life, monitor erosion/corrosion, and analyze partial collapses. It accepts standard and HD video, and instantly links collected data to the asset being inspected, making it easy to call up from a section view or GIS entity.

The WinCan Laser module is an add-on module for WinCan V8 pipe inspection and asset management software. For more information, visit www.pipelineanalytics.com.
About WinCan. WinCan(TM) was the original pipe inspection and asset management software when it entered the market 15 years ago. Today, it's the most trusted pipeline software worldwide, thanks to continuous innovation and exceptional support. WinCan(TM) transforms raw inspection data into the intelligence municipalities and contractors need to make critical maintenance decisions. The software's measurement tools help quantify defects, and sophisticated search capabilities filter observations by any combination of criteria. Its report generator automatically summarizes inspection findings using a standard or user-defined template. Native support for GIS mapping, side-scanning and 3D are among WinCan's(TM) most innovative features.

About Pipeline Analytics. WinCan(TM) pipe inspection and asset management software is supported and distributed in the Americas exclusively by Pipeline Analytics. As the only WinCan(TM)-certified software consultancy, Pipeline Analytics(TM) is uniquely positioned to deliver support, training, customization and integration with all common municipal databases and mapping software programs. Pipeline Analytics(TM) works directly with end users, and also with inspection equipment manufacturers, helping them deliver integrated hardware/software solutions that allow their customers to document, analyze and report pipeline condition. Visit Pipeline Analytics(TM) online at www.pipelineanalytics.com

More from Electronic Components & Devices