Laser Mirrors are made from silicon or molybdenum.
Press Release Summary: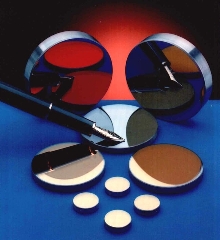 CO2 Laser Mirrors, for 25 to 200 W industrial lasers, are available in ½ to 1½ in. OD sizes. Silicon mirrors feature average reflectance >99.5 to 99.7% @ 10.6 µm and 45° AOI, while molybdenum mirrors provide 98% average reflectance, and are more durable for use in applications that require frequent cleaning. Mirrors made from silicon can be provided with enhanced silver, copper, and DMBR (dual band) coatings.
---
Original Press Release:
CO2 Laser Mirrors Made from Silicon or Molybdenum
A full line of CO2 laser mirrors and phase retardation reflectors for low power lasers used in industrial marking, etching, and soldering applications are available from Laser Research Optics of Providence, Rhode Island. Laser Research CO2 Laser Mirrors for 25 to 200 Watt industrial lasers are made from silicon with an average reflectance >99.5 to 99.7% @10.6 µm and 45° AOI or from molybdenum which provides 98% average reflectance and is more durable for use in applications that require frequent cleaning. Available in ½" to 1-½" O.D. sizes, in either material, Laser Research CO2 Laser Mirrors that are made from silicon can be provided with enhanced silver, copper, and DMBR (dual band) coatings. Phase retardation reflectors with < 1 .5% total absorption values are also offered. Laser Research CO2 Laser Mirrors are priced according to material, size, and quantity. Literature and price quotations are available upon request. For more information contact:
Laser Research Optics
A Division of Meller Optics, Inc.
Bruce Sunderland, Marketing
120 Corliss St.
Providence, RI 02904
(888) 239-5545 FAX (401) 331-4004
e-mail: sales@laserresearch.net
www.laserresearch.net
More from Electrical Equipment & Systems