Laser Micrometer System measures easily damaged parts.
Press Release Summary: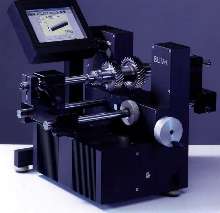 LaserMicro100 measures outside diameters and dimensions of shafts, rubber rolls, and cylindrical parts. Able to be used as stand-alone measuring device or fully integrated into automated manufacturing line, unit has repeatability of ±0.2 µ at linearity of better than ±1 µ over its 0.02-4 in. measuring range. Non-contact, single-focused beam system is virtually unaffected by part surface variations. Unit accommodates serial port interface or Ethernet card.
---
Original Press Release:

Blum LaserMicro100 Redefines Laser Micrometry


FORT MITCHELL, KY - Blum LMT, Inc., a global leader in laser measurement technology solutions, introduces to the U.S. market the LaserMicro100, a highly accurate, extremely versatile laser micrometer system. It measures outside diameters (ODs) and dimensions of shafts, rubber rolls and many more cylindrical parts. The system can be used as a simple, economic stand-alone measuring device or can be fully integrated into an automated manufacturing line.

According to Paul Meinhardt, general manager, the LaserMicro100 sets a new standard of accuracy for laser micrometers. "It has a repeatability of ±0.2 microns at a linearity of better than ±1 micron over the entire measuring range - from 0.02" (0.5 mm) to 4" (100 mm)," he says. "It's virtually unaffected by part surface variations, measuring with equal facility highly polished or turned surfaces, making it ideal for operations with cylindrical grinders or lathes alike. Further, the noncontact nature of the LaserMicro100 means that highly delicate and easily damaged parts can be measured without concern."

The LaserMicro100 is a single-focused beam system - unlike complex parallel deflection systems with rotating or oscillating mirrors. The LaserMicro100 is designed around quite a different principle: the actual stroke for the single focused laser beam is permanently fixed by a high-resolution linear encoder in the vertical extension of the measuring line, providing real-time, closed-loop feedback of measurement values. Pulses triggered each time the laser beam is interrupted, or released by the target, are used to determine highly accurate dimensional values when compared to pre-determined calibration values.

"System design, simplicity and rigidity," Meinhardt says, "coupled with top-quality components sourced around the world, result in a system impervious to harsh plant floor operating environments and virtually maintenance-free operation."

The LaserMicro100 can be extended, via optional features, to full measuring machine capability, including compound length measuring, position read-out and motor-operated positioning. Also, the LaserMicro100 easily accommodates SPC, such as Q-DAS, via serial port interface or ethernet card, for today's often required trace documentation, and the system can be integrated into a fully automated process, including robotic loading and compensation value feedback to machine tool controls.

Blum LMT, Inc., is recognized as a developer of leading-edge laser measurement technology, with some 30 years experience and more than 16,000 installations world-wide, including General Motors, Mercedes-Benz, Boeing, General Electric, Bosch, Cincinnati Machine, Mikron, Ingersoll Milling Machine, Huller Hille, Fadal, Haas, YCI and others.

For more information, contact Blum LMT, Inc.; 250 Grandview Dr., Suite 10; Ft. Mitchell, KY 41017. Tel: 859/344-6789. Fax: 859/344-6799. www.blumlmt.com E-mail: solutions@blumlmt.com.


More from Electronic Components & Devices