Laser Measurement System has PH-30 PowerHead (CW).
Press Release Summary: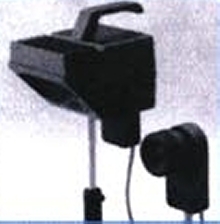 DigiRad Laboratory measurement system, based on R-752 Universal Radiometer, offers pulsed power measurement capabilities from 10 pJ to 1 Joule and CW measurement ranges from 10 mW to 100 W. Dynamic wavelength capability ranges from 200 nm to 20 micrometers. System includes auto-ranging, auto-triggering, and NVRAM storage of wavelength calibration factors. Software control is provided via Rs-232 port. System comes with probes, cables, and power supplies.
---
Original Press Release:
TTI Announces the DigiRad Laser Lab Measurement System

Oriskany, New York, March 19, 2002: Terahertz Technologies Inc. has introduced a complete laser laboratory measurement system based on its well-known R-752 Universal Radiometer. This measurement system offers the capabilities of pulsed power measurement from 10 pJ to one Joule and CW measurement ranges from 10 mW to 100 W. Dynamic wavelength capability ranges from 200 nm to 20 micrometers. The system's UV to Far IR dynamic range, the capability of both CW and pulsed radiation measurements, auto-ranging, auto-triggering, and NVRAM storage of wavelength calibration factors offers the ultimate in perfornance, versatility, and convenience. No other manufacturer can offer such outstanding performance and price in one package. Software control is provided via the Rs-232 port. The system comes complete with all probes, cables, power supplies, and adjustable mounting stands This complete system will enhance the capabilities of any research or university laser laboratory.

System Components:

R-752 Universal Radiometer for Readout/Controller
P444 Pyroelectric Probe
PH-30 PowerHead (CW)
S444 YAG Enhanced Probe
U444 UV Enhanced Probe
Rs-232 Intelce & Cable
Window/Filter Holder, Probe Cables, Power Supplies, Mounting Stands

More from Electronic Components & Devices