Laser Measurement System aids QC in wafer and solar cell production.
Press Release Summary: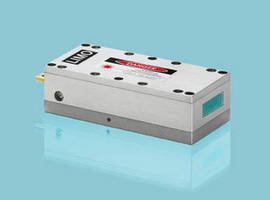 Generating illuminated ~165 x 3 mm² line with up to 95% homogeneity, L³ LIMO Line Laser® is suitable for scanning solar cells measuring 156 x 156 mm in size. High beam intensity minimizes exposure time, while wavelength of 790 or 808 nm facilitates spectral separation of laser beam and PL signal. Unlike electro-luminescence systems, PL is contact-free and thus destruction-free.
---
Original Press Release:

Always in the Right Light - Solar Cell and Wafer Production: Line Laser Provides Optimum Illumination



"Trust but check yourself!" The Russian saying describes an important aspect of every high-precision production: the obligation of quality assurance. This check is particularly demanding when it comes to wafers and solar cells for which fast, contact-free methods of quality testing - such as photoluminescence (PL) measurement and micro-crack testing - are particularly well suited. One thing in favour of inline testing is that quality control is performed during the production process without interrupting it. This way, productivity can be increased and the costs of a component can be reduced.

L³ LIMO Line Laser®: Quality check under homogenous light

However, the success of these inline tests stands and falls with the correct, homogeneous illumination of the test sample, for which the LIMO line lasers have been developed. The L³ LIMO Line Laser generates a very homogeneous illuminated line (~ 165 x 3 mm²; homogeneity: up to 95 percent) for scanning a solar cell 156 millimetres by 156 millimetres in size. The high beam intensity shortens the exposure time. The wavelength of 790 or 808 nanometres also makes the spectral separation of the laser beam and PL signal easier. This is a very important prerequisite because it is due to this property alone that PL systems can measure with laser illumination very quickly and reliably. Unlike electro-luminescence systems, PL is a contact-free testing system and thus destruction-free. This gentle measuring method reduces the costs for mechanical setup and prevents damage.

At the same time LIMO offers beam shaping modules which homogeneously illuminate a complete field under a certain angle. The Fraunhofer Institute for Solar Energy Systems (ISE) in Freiburg has already successfully tested the interaction between high-performance diode lasers and the beam shaping modules.

LIMO also supplies both solutions - line lasers and beam shaping modules - with customised line and field sizes. You will have the chance to familiarise yourself better with the product at Photonics West 2012 (North Hall D, booth #4314). For further information visit our website www.limo.de or contact Maja Gacnik (m.gacnik@limo.de).


More from Thermal & Heating Equipment