Position Sensors / Detectors / Transducers
Laser Measurement Sensor delivers sub-micron accuracy.
Press Release Summary: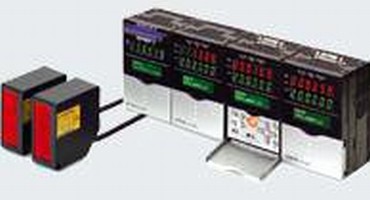 Built on modular, plug-and-play concept, scalable ZS-L series laser displacement measurement sensors employ 2D CMOS technology. They are available with 9 sensor heads for distances from 10-350 mm and measuring ranges from ±0.5 to ±135 mm. Combined with matching controllers, multi-calculation controllers, and data storage units, sensors are set-up via controller or point-to-point USB connection to PC and deliver resolutions as fine as 0.25 mM with sampling speeds to 110 mS.
---
Original Press Release:


OMRON Scalable Laser Measurement Sensor with CMOS Technology Delivers Sub-Micron Accuracy




Tokyo and Nufringen, Germany, Oct. 24, 2005 - OMRON's ZS-L series of 2D CMOS laser displacement measurement sensors combine sub-micron accuracy with best-in-class dynamic performance. Further, being built on a modular, plug-and-play concept with a wide range of models and options, these innovative new sensors provide a scalable solution that can be readily expanded as your instrumentation requirements evolve.

The ZS-L series delivers a wide range of different sensor heads offering sensing distances from 10mm to 350mm, and measuring ranges from +/-0.5mm to +/-135mm. These are combined with matching controllers, multi-calculation controllers and data storage units to provide complete, powerful measurement and data compilation solutions.

Employing OMRON's innovate 2D CMOS technology gives the sensors a very high dynamic sensing range, providing a single solution for a whole spectrum of different surface textures and materials, from black rubber to shiny metal, and from mirrored surfaces to glass or semitransparent plastic. Further, the ZS-L sensors combine resolutions as fine as 0.25mM with super-fast sampling speeds up to 110mS to capture data on even the fastest moving targets. The image is processed in the sensor head, and then noise-free transmitted to the controller via a Low Voltage Differential Signal (LVDS).

The ZS-L sensors also benefit from OMRON's unique free programmable gate array (FPGA) hardware that allows individual devices to be programmed with application-oriented algorithms. This makes the sensors extremely flexible, allowing the characteristics and operation of any device to be closely tailored to the specific requirements of any application.

Accurate, stable, fast and reliable, the ZS-L series encompasses nine different sensor heads: the ZS-LD350 with 350mm sensing distance and +/-135mm measuring range; the ZS-L200 with a 200mm sensing distance and +/-50mm measuring range; the ZS-LD130 with 130mm sensing distance and +/-15mm measuring range; the ZS-L80 with 80mm sensing distance and +/-15mm measuring range; the ZS-L50 with 50mm sensing distance and +/-5mm measuring range; the ZS-L40T with 40mm sensing distance and +/-2.5mm measuring range; the ZS-L20T with 20mm sensing distance and +/-1mm measuring range; the ZS-L15GT with 15mm sensing distance and +/-0.75mm measuring range; and the ZS-L10GT with 10mm sensing distance and +/-0.5mm measuring range. Sensing resolution starts from 0.25mM depending on the measurement range and work-piece. Sensing heads are available for diffuse reflective and regular reflective operation.

With a full range of controllers and multi-calculation controllers, the ZS-L series provides a scalable system that can be readily expanded to meet all application needs. Any number of different calculations can be performed on a single image, for example allowing a complete picture of evenness, thickness and inclination to be built up. The range also includes data storage units that log data complete with time stamp to meet traceability requirements or to enable statistical process control.

For ease of use, the sensors can be quickly set up via user guided menus inside the controller, or via point-to-point USB connection to a PC using OMRON's Smart Monitor Professional software.

Plug & play technology means the sensor head is automatically detected and calibrated by the controller - you simply choose the sensor head that best suits your application. The ease of installation reduces commissioning time, whilst simplicity of maintenance helps to reduce downtime; both contribute to significant savings in time and money.

About OMRON

Headquartered in Kyoto, Japan, OMRON Corporation is a global leader in the field of automation. Established in 1933 and headed by President Hisao Sakuta, Omron has more than 25,000 employees in over 35 countries working to provide products and services to customers in a variety of fields including industrial automation, electronic components industries, and healthcare. The company is divided into five regions and head offices are in Japan (Kyoto), Asia Pacific (Singapore), China (Hong Kong), Europe (Amsterdam) and US (Chicago). The European organisation has its own development and manufacturing facilities, and provides local customer support in all European countries. For more information, visit Omron's Web site at www.omron.com.

For further information, please visit the OMRON home page at: www.omron.com

Contact
OMRON Europe BV,
Sensor Business Unit,
Carl-Benz-Str. 4,
D-71154 Nufringen, Germany
Tel: +49-7032-811-0,
Fax: +49-7032-811-199
Internet: www.europe.omron.com


More from Machinery & Machining Tools