Laser Marking System works on metal and plastic.
Press Release Summary: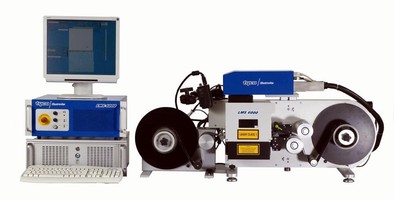 Model LMS6000 features ytterbium laser providing 1,000 dpi marking resolution and speed of 2,000 mm/sec. Marking area of 130 x 130 mm can be expanded to 185 x 185 mm for continuous applications, with 1 m² possible with optional direct part marking module. System has in-line grading system with error detection capability. Weighing 35 kg with 150 x 25 mm footprint, portable device is suitable for use with various label materials.
---
Original Press Release:

Laser Powered Marking System Handles Metals & Plastics



HARRISBURG, Pa. - July 28, 2006 - Tyco Electronics Corporation has introduced the LMS6000 laser marking system. The LMS6000 laser marking system is a fully functional and closed loop, ytterbium doped fiber laser system capable of marking a variety of flat label materials and direct marking on specific metallic and plastic substrates. In addition, the LMS6000 laser marking system offers true closed-loop functionality by including an in-line mark grading system with error detection capability. Also, the LMS6000 features reel-to-reel transportation with integrated fume extraction and vacuum hold-down of the material being marked.

An efficient and precise ytterbium laser provides marking resolution up to 1000 dpi at a marking speed of 2000 mm per second. The most minute labeling details including compact bar codes and 2D data-matrices are common applications for the LMS6000 laser marking system. The effective marking area of 130mm x 130mm can be expanded to 185mm x 185mm for continuous applications and with the optional direct part marking module, a 1m2 marking area is possible. Furthermore, in addition to the wide marking area, the LMS6000 laser marking system also provides fast throughput for cutting, oxidizing, engraving, and anodizing.

Specific materials suitable for the LMS6000 laser marking system include: AL-AN anodized aluminum tags, ACR Tamper Evident Acrylic, acrylic coated polyester, polyester, Poly-A200 and Poly-A400 Laser Markable Polyesters, NMX Aramid Tags, TTVF Polyvinyl Fluoride, RMK and RMK6 Raymark epoxy coated labels, Stainless Steel, Brown Steel, Duroplast, Copper, Titanium and Carbide as well as polyaramid, PVF, AlumaMARK laser markable aluminum and many others. Many other materials can be optimized per the application requirements or to specific industry specifications like MIL-STD-129 and 130.

Weighing in at 35Kg and having one of the smallest footprints (150mm x 25mm) in the industry, the LMS6000 laser marking system allows for portability and can be relocated for sharing or on-site work. An integrated software package helps with label designs and connects with many production control software systems.

Pricing for the LMS6000 laser marking system ranges from $57,500 to over $80,000 depending on the optional features required. Typical deliveries are 6-8 weeks.

For more information on the LMS6000 laser marking system from Tyco Electronics Corporation, contact Tyco Electronics' technical support center at 1-800-522-6752 or send an e-mail to newproducts@tycoelectronics.com

About Tyco Electronics Corporation
Tyco Electronics Corporation, a business segment of Tyco International Ltd., is the world's largest passive electronic components manufacturer; a leader in cutting-edge wireless components, complete power systems, and premise wiring components and systems; and a provider of critical communications systems to the Land Mobile Radio industry. Tyco Electronics provides advanced technology products from over forty well-known and respected brands, including Agastat, Alcoswitch, AMP, AMP NETCONNECT, Buchanan, CII, CoEv, Critchley, Elcon, Elo TouchSystems, M/A-COM, Madison Cable, OEG, Potter & Brumfield, Raychem, Schrack and Simel. For more information, visit www.tycoelectronics.com

LMS6000, RAYMARK and TYCO are trademarks.
AlumaMARK is a trademark of Horizons Incorporated.
Other trademarks are the property of their respective owners.


Related