Laser Marking System marks plastics without additives.
Press Release Summary: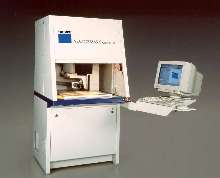 VectorMark compact 6 is a frequency-tripled, diode-pumped, solid-state laser system that achieves high-contrast marks on most plastics and synthetic materials. UV wavelength provides high photon energy resulting in marking through photochemical process, rather than thermal process. Marks are created without engraving, burning, or damaging finish of part. System is suitable for marking electrical and electronic components, such as connectors, PLCs, relays, and switches.
---
Original Press Release:
New VMc6 Laser Marking System Marks Plastics, Synthetics Without Additives
FARMINGTON, Conn., June 23, 2003 - TRUMPF has introduced a new precision laser marking system, the VectorMark compact 6, which achieves high-quality, high-contrast marks on most plastics and synthetic materials - without requiring additional additives to the material. The VMc6's UV wavelength is advantageous in applications such as marking of electronic components, where added pigment might change the materials' dielectric properties. "Traditionally, laser marking plastics required the use of special additives," explains Tim Edwards, laser marking systems product manager for TRUMPF Inc. "With the new VMc6, TRUMPF can now offer a wide assortment of lasers, from infrared to ultraviolet, which mark with excellent contrast and quality - without requiring photosensitive pigments." The frequency-tripled, diode-pumped, solid-state VMc6 laser system (wavelength 355nm, UV) laser marks plastics at a higher quality and faster processing speeds than traditional plastics marking. On most plastics, the VMc6 achieves a much darker contrast than infrared lasers, and without damaging the material or altering the part's surface finish. The UV wavelength of the VMc6 offers several advantages in the material processing of plastics. For example, the high photon energy of the new laser results in high-contrast marking through a photochemical process, rather than a thermal process. "The 'cold marking' process ensures minimal energy (heat) is added to your part and creates crisp, high-contrast marks without engraving, burning, or otherwise damaging the finish of your part," says Edwards. "This is particularly important in manufacturing of synthetic electrical and electronic components, such as connectors, PLCs, relays, and switches," he adds. The UV wavelength also greatly increases the range of synthetic materials that can be marked with high quality and contrast. The VMc6 achieves high quality marking results (without additives) in acrylonitrile-butadiene-styrene (ABS), polybutylene terephthalate (PBTP, PBT), polycarbonate resin (PC), polyphenylenesulphone (PPSU), styrene-acrylonitrile (Styrol, SAN), polyetherether ketone (PEEK) and urea. Good results can also be achieved in polystyrene (PS), polyimides (PI), polyethylene (PE), polyethylene terephthalate (PETP), polyoxymethylene, (POM), polyphenylene sulfide (PPS), acrylic-styrene-acrylonitrile (ASA), polyethersulphone (PES), polyetherimide (PEI), polyamide (PA), polyvinyl chloride (PVC), depending upon the color of the material. The VMc6 is designed for high efficiency and low cost of operation. The VMc6's vanadate crystal is mounted to a frame that is automatically moved at regular intervals. As a result, wear is spread out over the entire crystal and the life of the crystal is prolonged dramatically. "We are very excited about all the applications and benefits created by the new UV wavelength of the VMc6," says Edwards. "Manufacturers seem delighted with the new machine too. They no longer have to alter their material in order to mark it." All VectorMark compact laser marking systems are available as OEM-components (for integration in automated production lines) and as standalone workstations (with Class 1 safety enclosures and integrated fume extractors). As part of TRUMPF's VectorMark family of products, the VMc6 offers high productivity and rugged durability, especially in multi-shift industrial operations. TRUMPF is one of the world's largest producers of fabricating machinery and a world market leader in lasers used for industrial production technology. Additional company information is available at: www.us.trumpf.com
More from Fluid & Gas Flow Equipment