Laser Marked Sleeving promotes identification/traceability.
Press Release Summary: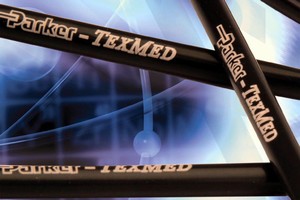 TexFluor(TM) FEP, PTFE, PFA, and ETFE tubing, used to splice together cabling or encapsulate wiring, provides protective covering and increases lubricity of cabling, instruments, or catheters. Promoting in-field identification, fluoroplastic heat-shrinkable tubing is available with laser-marked part numbers, text, bar codes, or logos. Once tubing is lasered, non-contaminating, indelible marks are virtually unremovable to allow traceability.
---
Original Press Release:

Laser Marked Sleeving



Fort Worth, TX April 26, 2007 - Parker/TexMed now offers laser markable fluoroplastic heat shrinkable tubing to provide a protective covering or increase the lubricity of cabling, instruments or catheters. This product is often used to splice together cabling or encapsulate wiring and the new, laser marked sleeves allow for easy identification in the field. Marks available include part numbers, text, bar codes or logos and once the tubing is lasered, the marks are virtually unremovable.

Laser marking is a non- contaminating, indelible mark used for parts identification or enhancing traceability. In the past, marking was unheard of on fluoroplastic tubing Traditional inks would not adhere to the fluoroplastic tubing but with laser marking, the laser is used to achieve a pigment deviation in the material, creating a visible mark on the product without adding ink or other contaminants to the product.

Laser marking is available on TexFluor(TM) FEP, PTFE, PFA and ETFE tubing. For more information, contact:

Alan Morgan
Parker / Texmed, division of Parflex
4700 Lone Star Blvd.
Ft. Worth, Texas 76106
(800) 423-6551 Fax (800) 438-9562
email: texmed@parker.com www.texmed.us

More from Architectural & Civil Engineering Products