Laser Machine performs 3-dimensional metal cutting.
Press Release Summary: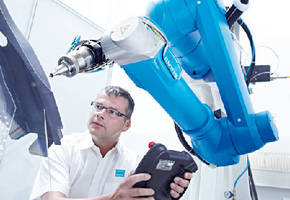 Comprising robot, laser, electrical cabinet, and rotating table on 12 m² platform, JENOPTIK-VOTAN® BIM is capable of cutting 3D car body components, structural parts, or hydro-formed tubes for exhaust systems in seconds, making it suitable for automotive industry. Laser robot arm is unique in that optical fiber is located only in stationary robot shoulder and laser beam path is totally integrated. Weighing 5 kg, slim laser cutting head accesses tight locations and enables ±100 µm repeatability.
---
Original Press Release:

Jenoptik Shows its Laser Machine for 3Dimensional Metal Cutting at CIMT 2013



Jenoptik's Lasers & Material Processing division demonstrates its breakthroughs in the field of laser metal processing at China International Machine Tool Show (CIMT) 2013 in booth W3-213 of the China International Exhibition Center Beijing between April 22 and 27.



JENOPTIK-VOTAN® BIM – Precise, Fast and Compact



Jenoptik engineered JENOPTIK-VOTAN® BIM to meet the challenges associated with very big size as well as inflexible performance of today's laser machines, especially in highly automated environments. During the initial design of JENOPTIK-VOTAN® BIM, Jenoptik not only took these requirements into consideration but also was able to achieve a total lower cost of ownership as well as to increase the parts per hour and thus exceed the industry standard for robot-based laser machines.



Smartly engineered Jenoptik's robot-based 3D metal cutting laser machine, JENOPTIK-VOTAN® BIM provides industrial manufacturers a highly flexible, fast processing and cost-effective laser machine solution that carries several advantages over standard laser machines.



JENOPTIK-VOTAN® BIM's laser robot arm is unique in that the optical fiber is located only in the stationary robot shoulder and the laser beam path is totally integrated. During the cutting process the laser light is guided by means of mirrors inside the robot arm. Due to the immobility of the laser fiber, its condition is preserved, which eliminates any costly maintenance and replacement of the fiber. The slim and only five kilograms light laser cutting head also contributes to the accessibility into tight locations, high path accuracies and high speed 3D metal processing. Therefore both features allow reducing the collision probability during the process. With the repeatability of ±100 µm, Jenoptik's laser machine is one of the most accurate on the market.



Additionally, Jenoptik's laser arm's axis movements are up to 60 percent quicker than the norm and deliver a much shorter tact time compared to conventional metal processing laser robots.



JENOPTIK-VOTAN® BIM components are maintained as one platform of about 12m² comprising the robot, laser, electrical cabinet and a rotating table that allows for more manoeuvrable operations and continuous cutting. Additionally, JENOPTIK-VOTAN® BIM can be moved easily via a fork lift, set up quickly – optimizing the user's machine installation time.



Among the top manufacturing segments to leverage JENOPTIK-VOTAN® BIM is the automotive industry. This is evident from JENOPTIK-VOTAN® BIM's highly sophisticated and precise ability to cut within seconds 3D car body components, structural parts or hydro formed tubes for exhaust systems. Fabricators can also greatly benefit from its dynamic ability to facilitate laser cutting of contours and functional holes of so called white goods, tanks and reservoirs. Other possible applications on the JENOPTIK-VOTAN® BIM are 3D laser cutting of thin metal pieces, sophisticated profiles, e.g. of the extraction system or an exhausted air system. Whether cutting thin metal pieces or sophisticated designs, JENOPTIK-VOTAN® BIM delivers high cutting quality and consistency.



In February of this year JENOPTIK-VOTAN® BIM won the U.S. Vision Award. Among the nominated products, this laser machine has had the biggest potential of solving entrepreneurial challenges using technological innovation. Main criteria for the U.S. Vision Award are the three aspects Innovation, Value and Impact. Sponsored by the U.S. technology publication High Tech Views, the award program was founded in 1996 to recognize innovation in the application of information technology. The award focuses on the business benefits user organizations derive from their technology innovations.



The live performance of the robot arm, the core part of the laser machine JENOPTIK-VOTAN® BIM can be seen in the booth W3-213. For more detailed information, please visit: www.jenoptik.com/cimt.



Fast and Highly Productive Metal Processing with Jenoptik's 1 kW Fiber Laser JenLas® fiber cw 1000



At CIMT 2013 Jenoptik shows its laser source JenLas® fiber cw 1000, which is a highly brilliant single-mode high power fiber laser system, featuring excellent power stability and long lifetime. JenLas® fiber cw 1000 ensures fast processing and consistently high productivity in many applications. This laser system is a continuous wave laser with an output power of 1,000 Watts. Compared to other laser sources such as CO2 lasers, fiber lasers are more energy-efficient and thus, more cost-effective especially in such industrial applications as metal cutting and welding.



"Fiber lasers are already available on the market within a large variety of power ranges. However, Jenoptik's know-how in the fields of diode lasers, fiber laser pump sources, laser sources and processing optics establishes a unique environment for creating substantial customer value," says Dr. Thomas Fehn, Executive Vice President of the Jenoptik Lasers & Material Processing division. He adds: "Our in-depth knowledge on all those technical stages combined with our extensive experience with the application itself enables our customers to seamlessly and flexibly integrate Jenoptik's fiber lasers into the respective systems."



Optimized for use within customers' laser processing systems, this OEM laser source comes in a compact 19 inch housing and includes customer friendly control software. The device safety lock that is made of certified components ensures operational safety. The laser has several user interfaces such as RS232, EtherCAT, USB port or and a parallel customer-specific interface.



For further information, please visit: www.jenoptik.com/cimt.



About the Jenoptik Lasers & Material Processing division

With its Lasers & Material Processing division, Jenoptik is one of the leading providers of laser technology and provides products and solutions along the entire value-added chain of laser material processing – from components up to complete laser systems. In the Lasers business unit, the company has specialized in high-quality semiconductor lasers, reliable diode lasers as modules or systems as well as innovative solid-state lasers such as disk and fiber lasers. This product portfolio makes Jenoptik the ideal partner for the entire pulse width range, from cw to fs. In the field of high-power diode lasers, the company is acknowledged as a worldwide quality leader. In the Laser Processing Systems business unit, Jenoptik develops and manufactures laser machines which are integrated into its customers' production lines as a part of their process optimization and automation. They serve for the processing of plastics, metals and glass in connection with the processing of thin films. Jenoptik laser systems ensure processing at maximum efficiency, precision and safety. In addition, customers can try out various laser sources and machines at the Application Centers, thus finding the optimal solution for their application. The product portfolio is rounded off with energy-efficient and environmentally friendly exhaust cleaning systems for residue-free removal of pollutants during laser processing and other industrial processes.

More from Communication Systems & Equipment