Laser Level Transmitters feature all-digital design.
Press Release Summary: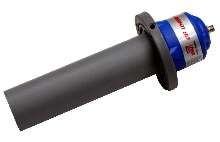 Using hardware timing system and DSP algorithms, corrosion-resistant SureShot® Transmitters can select true signals, even in harsh conditions. With pulsed laser diode, SureShot 50 offers measurement range of 1-50 ft, while SureShot 30 measures 1-30 ft. Update rate of 3 readings/sec allows units to track rapid movements. Transmitters are suited for level measurement and positioning applications that use pellets, slurries, and opaque liquids in bins and silos.
---
Original Press Release:

K-TEK Announces SureShot®, New Line of Low Cost, High Accuracy Laser Level Transmitters


New level detection products feature first all-digital design that combines accuracy, speed, and low cost for non-contact, continuous level measurement

Prairieville, LA (February 17, 2004)- K-TEK, a leading manufacturer of state-of-the-art level instrumentation for liquid and bulk solids detection, today announced the SureShot® family of low-cost, laser level transmitters.

The lightweight, corrosion-resistant SureShot features a unique, all-digital design that delivers high performance for complex level and positioning applications. Using an advanced timing system and sophisticated digital signal processing (DSP) algorithms, the SureShot is able to select true signals, even in the harshest of conditions. In addition, the SureShot architecture ensures users are up and running quickly because it requires no calibration or special configuration software.

K-TEK's SureShot is designed for level measurement and positioning applications that use pellets, slurries, opaque liquids, in bins and silos.

It is priced at one-third to one-fifth the price of competing laser systems and is more accurate and flexible than similarly priced ultrasonic instruments. Two models are available - the SureShot 50 with a measurement range of 1 to 50 feet (0.3 to 15 meters), and the SureShot 30 with a measurement range of 1 to 30 feet (0.3 to 10 meters).

"The leading-edge design of the SureShot laser level transmitter is light years ahead," said Ivo Radanov, Product Manager for Lasers and Ultrasonics at K-TEK Corp. "Whether you're positioning moving machine or measuring level in closed vessels, the SureShot is the fastest and most cost-effective method for detecting continuous level and position. The instrument is already calibrated, so set-up is quick and easy. Simply place the unit in position and run."

All Digital Design
The SureShot features an all-digital design that provides speed and accuracy in a compact unit. A unique hardware timing system and sophisticated DSP software architecture are geared to last pulse detection. This means the SureShot is able to select true signals regardless of the presence of surrounding noise, such as rock dust or chemical vapors. The transmitter also offers variable gain and power for better dust penetration. Color compensation corrects for weak or excessive return signals, even at high speeds. The SureShot's fast update rate of up to 3 readings per second allows it to track rapid movements.

This is especially useful for cone crushing applications in rock quarries and mines or extrusions from screw conveyors. In these cases accurate measurements are needed in the face of vibration, noise, and a rapidly changing surface. The narrow laser beam of the SureShot transmitter easily penetrates dust and its high speed means operators can quickly get the measurements they need for advanced functionality, such as applying PID control to the feeding of the crusher and the torque of the machinery¹s electrical motor. Such capabilities result in increased productivity and a longer life for the equipment being used.

State-of-the-Art Laser Technology
The SureShot transmitter uses a pulsed laser diode for all measurements. A laser pulse has an extremely small wavelength of ~1 micrometer. This is smaller than the surface roughness of solids encountered in process control and orders of magnitude smaller than radar, which has a wavelength of 10,000-30,000 micrometers. As a result, the SureShot has virtually no beam divergence; it can be narrowly focused and can measure surfaces at any angle. This means it can be used in narrow passages with unusual internal structures yet receive no interference from surrounding objects, such as the walls of a silo, grids, or gratings.

The SureShot is also immune to reflections and echoes. As a result, it provides consistent performance on solids and total immunity to "cone up" and "cone down" variations in the material being measured.

The SureShot is easily programmed with a Palm handheld device or a desktop/laptop personal computer. No special configuration software is needed. Convenient, portable mounting options allows users to position the laser in any direction. A stainless steel dust tube can be added for demanding chemical environments. K-TEK uses Class 1 lasers, making the SureShot products safe for the human eye. No special safety glasses are required.

Pricing & Delivery
K-TEK's SureShot laser level transmitters are available for immediate shipment. Prices for the SureShot 30 start at $1,500. Prices for the SureShot 50 start at $1,700. Delivery is one week from receipt of order.

About K-TEK
K-TEK is a leading manufacturer of state-of-the-art level instrumentation for liquid and bulk solids detection. Founded in 1975, the company pioneered the KM26 magnetic level gauge with extruded outlets and continues to set the pace in the industry with such innovations as AccuTrak®, the first Fieldbus-compatible magnetostrictive level transmitter, and LASERMETER®, the first industrial laser level and distance transmitter. The company also manufactures magnetically coupled level gauges, magnetostrictive level transmitters, guided wave radar transmitters, ultrasonic transmitters, and a full line of point level switches, plumb bob devices, and field controllers.

K-TEK's products are used in over 175,000 installations worldwide in such applications as plastics manufacturing, chemical processing, oil and gas production, pulp and paper processing, mining and construction, food and beverage manufacturing, and power generation. For more information, please visit www.ktekcorp.com.

For further information, contact:
Kevin Hambrice, Director of Marketing
K-TEK
18321 Swamp Road, Prairieville, LA 70769 USA
+1 225.673.6100, Fax: +1 225.673.2525
Email: khambrice@ktekcorp.com, Web: www.ktekcorp.com

More from Controls & Controllers