Laser Gold Plating for IR Reflectance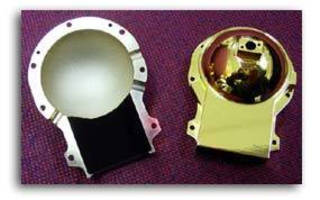 Epner Technology is a leading plating and coating service. Precious metal plating and gold plating to NIST reflectance standards is Epner's specialty. With over 90 years of electro and electroless plating experience Epner is ISO 9001:2000 and NADCAP certified. Epner now adds to it's plating offerings with a unique process for altering the surface morphology of the substrate to be plated or coated.

o Epner now showcases integrating spheres that are coated with laser gold for extreme Efficiency. The substrate is usually aluminum or brass and Epner Technology has produced the unique application of both Laser gold and Laser black on one part with the integrating sphere surfaces remaining in aluminum. Calibration standards, traceable to NIST IR Reflectance gold standard. Of course this plating is only one engineering challenge the Epner has taken on. Epner is the leader in all precious metal plating on difficult substrates as well as ceramic glass and plastics.

The leader in plating for expanded marketplaces that include aerospace, medical, R & D, electronic and IR (Infrared) optical markets. Epner's laser gold plating reaches reflectivity of >99% @ 10 microns and >98% at 1 micron. Silver plating is plated to QQ-5365D, Aston, AMS and aerospace specs. High Q silver has a tarnish resistant proprietary deposit designed for microwave cavities and filters. Palladium to MIL-P 45209B and ASTM-B-679K specifications. Precious metals are engineered and applied over metal substrates such as Aluminum, Nickel, Copper, Titanium, Kovar and other exotic alloys as well as non metallic substrates such as plastics, ceramics and glass. "Six Sigma" quality is the standard goal for all challenges. Epner's optical coating and plating is ISO 9001:2000 certified. Epner offers complete turnkey fabrication capabilities.

Call David Epner today for Engineering support and Technical assistance for all your coating or plating application requirements. Visit our website at www.epner.com or call toll free 1-800-823-7637 for the most knowledgeable advice in the metals finishing industry.

More from Controls & Controllers