Laser Engraving System comes with coordinated rotary motion devices.
Press Release Summary: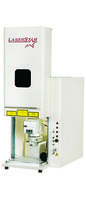 FiberCube Compact Laser Engraving System is used in applications such as identification text, corporate logos, 2D and 3D contours, serial numbers, bar codes and colors and textures. Embedded with StarFX™ operating software, product is suitable for engraving aluminum, stainless steel, titanium, copper, iron, brass and exotic metals.
---
Original Press Release:
Introducing FiberCube Compact
All New For 2017!
New for 2017, LaserStar announces the 3802 Series FiberCube Compact Laser Engraving System. Benefits include a "space saving" footprint and LaserStar's state-of-the-art operating software. Built to the same robust standards as the full size 3801 Series FiberCube, the Compact is suitable for a wide range of engraving applications, including identification text, serial numbers, bar codes, corporate logos, 2D and 3D contours, colors and textures as well as graphic and digital images. Accessories include coordinated rotary motion devices for seamlessly laser marking around a circumference. Made in USA.
THE BEST LASER ENGRAVING MACHINE
Our proprietary StarFX™ software provides a level of complex layer engraving and surface texturing never before available in today's marketplace. Convert any sketch, drawing, or graphic image into a custom engraved work-of-art on multiple alloys including: Aluminum, Stainless Steel, Titanium, Copper, Iron, Brass, Exotic Metals, Composites, and precious alloys. Each image can be engraved before or after custom coating (including hard coat anodize, custom color or Cerakote processes) to optimize the color fill, natural shadowing and polishing effects of the final result.
JOIN US AT AN UPCOMING TRADE SHOW
Each year LaserStar Technologies participates in a wide variety of trade shows around the country. It gives us the opportunity to connect face to face with current and future customers as well as introduce new and exciting products into the marketplace. Whether it be participating in one of many live demonstrations of our laser welding, laser engraving, and laser cutting systems or the opportunity to speak to one of our knowledgeable laser systems specialists, we want to meet with you. Check out our upcoming trade show schedule by clicking the button below. We look forward to seeing you!
LaserStar is a global supplier of Nd:YAG and Fiber Laser Sources and Systems for micro-welding, marking and cutting to many industries. We provide quality products and outstanding customer service to our customers worldwide. LaserStar products are made in the USA.
Contact:
LaserStar Technologies Corporation
One Industrial Court
Riverside, Rhode Island 02915 USA
More from Electrical Equipment & Systems